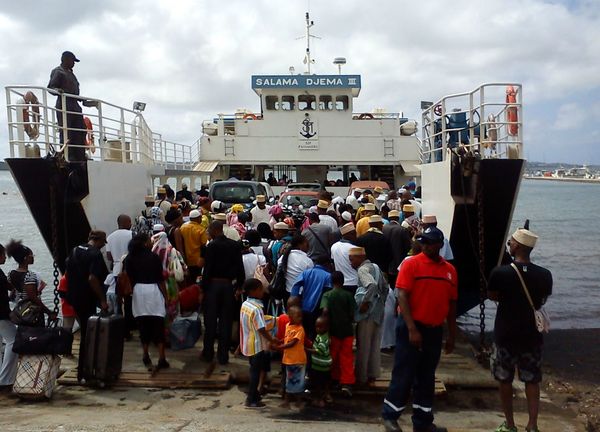 Mayotte is made up of two main islands, Grande-Terre and Petite-Terre. Between the two islands, the only means of transport is the ferry, known as the barge. There's even a verb for it: barger.
Barging costs 75 centimes for a pedestrian, 2€ for a 50cc scooter, 4€ for a motorbike or scooter 125cc or above and 15€ for a car. You can buy books of ten tickets slightly cheaper, for example 7€ for ten pedestrian tickets.
Some people live on one island and work on the other, some people fly often and need to travel regularly to the smaller island where the airport is. Either way, there are always heaps of people on the ferry. The crossing takes about twenty minutes. It can seem lovely and exotic to take the boat every day to go to work, but it's a huge time-waster when you do it every day.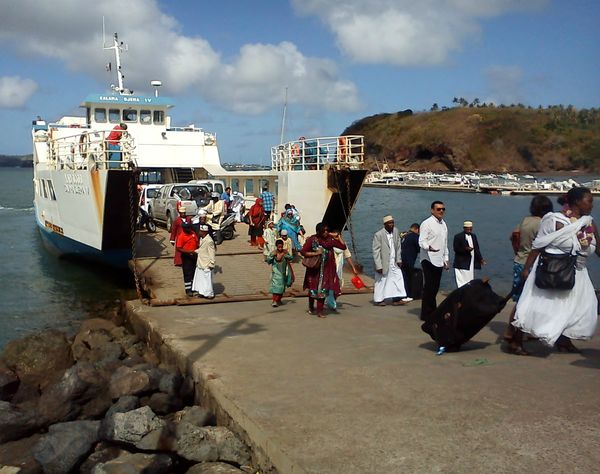 There are four ferries. The two pedestrian ferries have a maximum load of about 320 people, six cars and however many scooters as can fit on. One of the others is a small car-ferry designed for 12 cars and 12 drivers. They have very strict regulations in that if one car has two people in it, they must accept one less car to compensate. The last ferry, called the amphidrome, can carry twenty or so cars and is wonderful because you can actually drive the car straight in and out without executing a tight three-point turn such as the one you have to do on any of the other ferries.
People carry everything on these ferries: I've seen wheelbarrows full of green bananas and farmers with three zebus on there before. There are two levels where people can sit. The ferries turn around in the lagoon after leaving the harbour, so if you're sitting in the right place, you can see Mamoudzou disappearing or appearing in front of you.