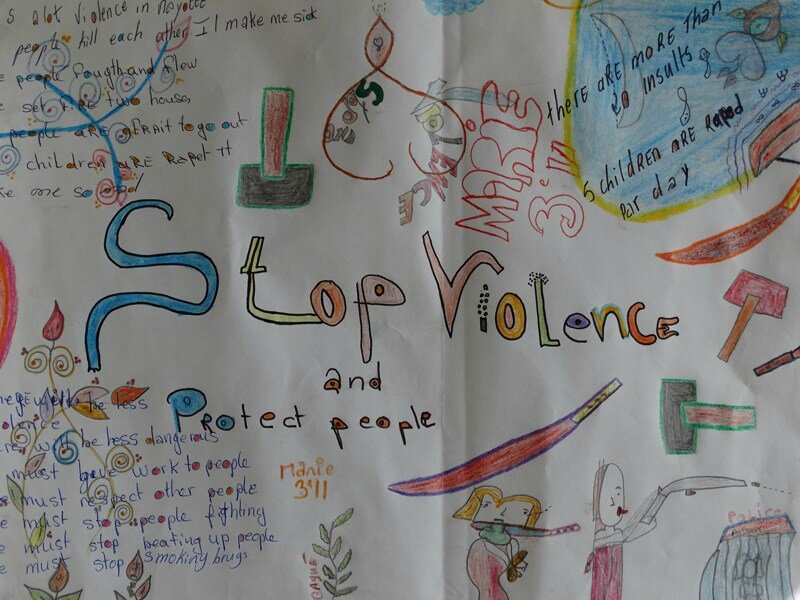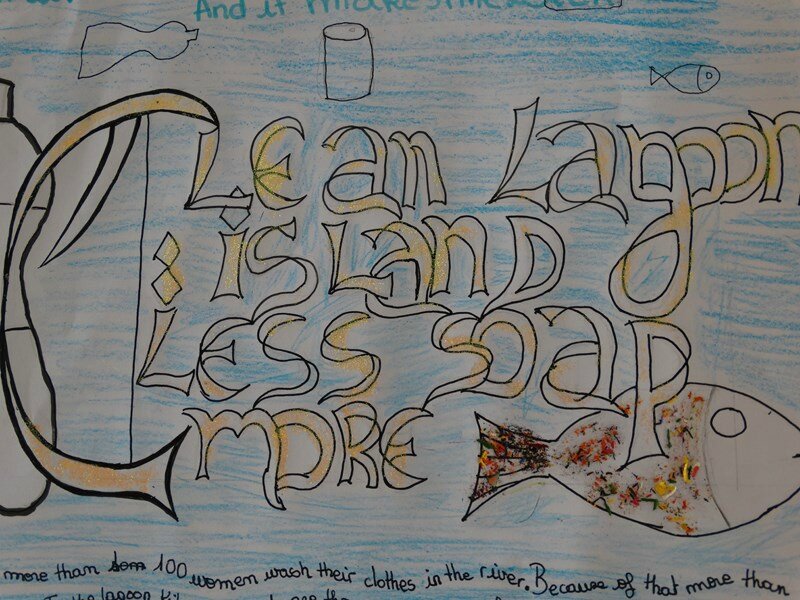 Recently, just for the fun of it, I thought I'd get my kids riled up about something. So I started a nice, light and cheery series of lessons about world problems: racism, discrimination, poverty, starvation, the environment, war, deforestation, animal cruelty, you name it, we talked about it. After a brief spate of "this isn't our problem, why are we doing this, miss?", they got really into the subject and started coming up with interesting ideas. I taught them a few expressions to say how they felt about this, that or the other, and received in return the pleasure of seeing kids go up to the front of the class, shout, throw books on the floor and stamp their feet because "you see, the environment is polluted, rubbish is thrown on the ground by people, it's bad for our health, it makes me so sick and people don't really care!". All in English. Lovely stuff.
We then talked about problems in Mayotte. There were quite a few of those to go around: littering, violence (attacks, rapes, insults, whatever), burglaries, clandestine immigration, turtle poaching, that sort of thing. In a couple of hours' lessons, they had defined the problem, written about how it made them feel (it makes me so mad... it's bad for our health... it just gets me so upset...), researched and/or invented some statistics, found a slogan for their cause and discussed an action plan to actually do something about it. The result was these posters, which I thought were pretty successful. I don't usually put students' work on here, but these really impressed me.
As a result of six classes drawing posters, this is what my classroom looks like now.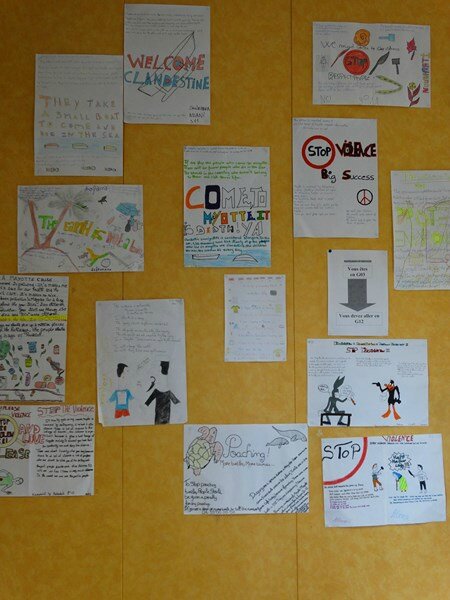 While I'm on the topic of my students, meet Moussa. Moussa is a very bright 14-year-old (or thereabouts) lad who enjoys speaking English very much. He's also a bit of a show-off. I've been teaching them to recite by heart a ten-line chunk of Martin Luther King Jr's "I have a dream" speech, which is quite a lot for a kid that age in their fourth language. Most kids came up to the front, turned their backs on the other students (who were busy filling in a table about peace fighters) and mumbled their speech in my ear as quickly as they could. When Moussa's turn came, he stood at the front of the classroom and announced that he required full audience participation for his speech. I silenced everyone, explained that Martin Luther King Jr wished to speak, and left Moussa centre stage. At some points, the class and I weren't quite sure whether he wanted to keep everyone quiet or whether he was trying to fly, but he knew the speech and delivered it well.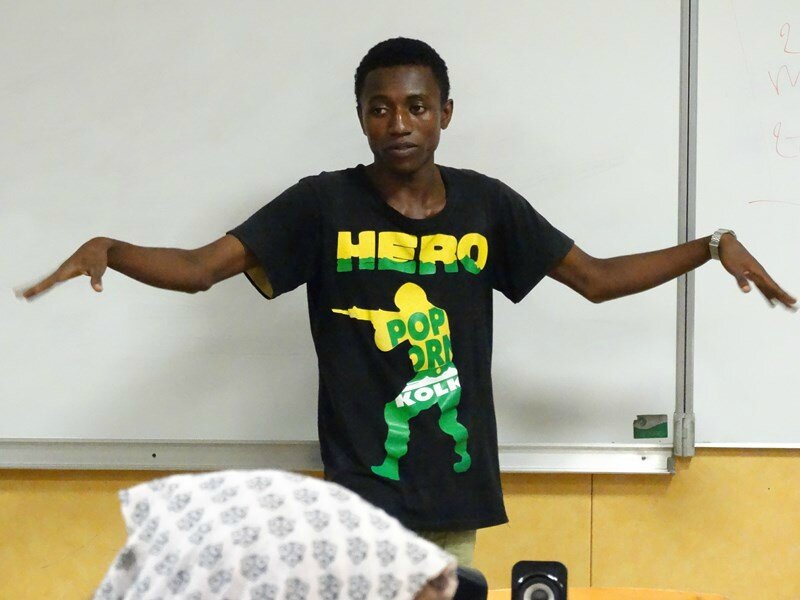 While I was teaching three or four classes that speech, a British colleague of mine in my adult lessons asked if she could see a couple of lessons at a Mahorese school. I brought her in to see my worst class followed by my best class, and with this latter, got them all to recite the speech together, books closed, with decent pronunciation and intonation. We then talked about the two classes. For the (very) good class, she wanted to take them home and keep them. For the awful class, she suggested a fire hose.
As it happens, that speech has helped them with more than just their English lesson. The kids had a History of Art exam the other day: they've been studying various works of art during the year, and the exam was an oral where they were given one work of art out of the five they had studied and told to talk about it and answer questions about it for fifteen minutes. Unbeknownst to me at the time, my kids had studied the "Washbasins of Segregation" in their French class. It's a photo by Elliott Erwitt of two washbasins, where you can see a black man at the "colored" basin. One of my girls was tested on this work of art, and she talked all about the photo itself as well as American segregation practices in general. The jury then asked her if she knew of any other works expressing similar ideas. Martin Luther King Jr's speech, she said. Then proceeded to recite, by heart and in English, the ten lines she'd learnt with me. The jury was suitably impressed, even going so far as coming to tell me about it, and gave her top marks. I love my kids. I really do.