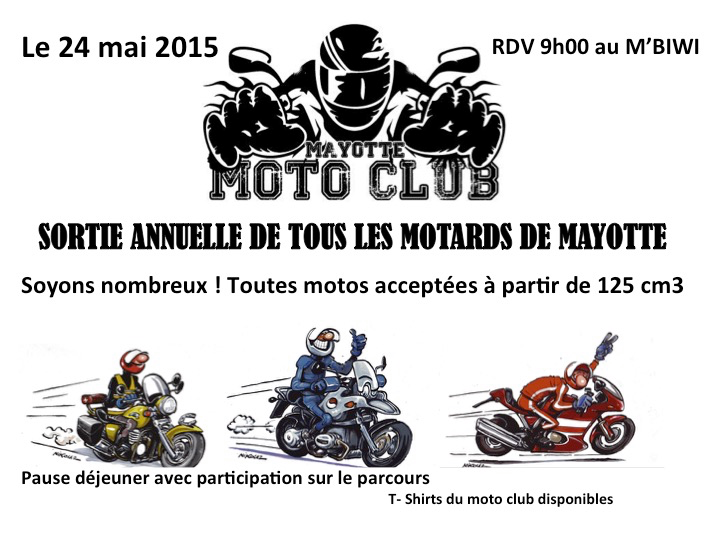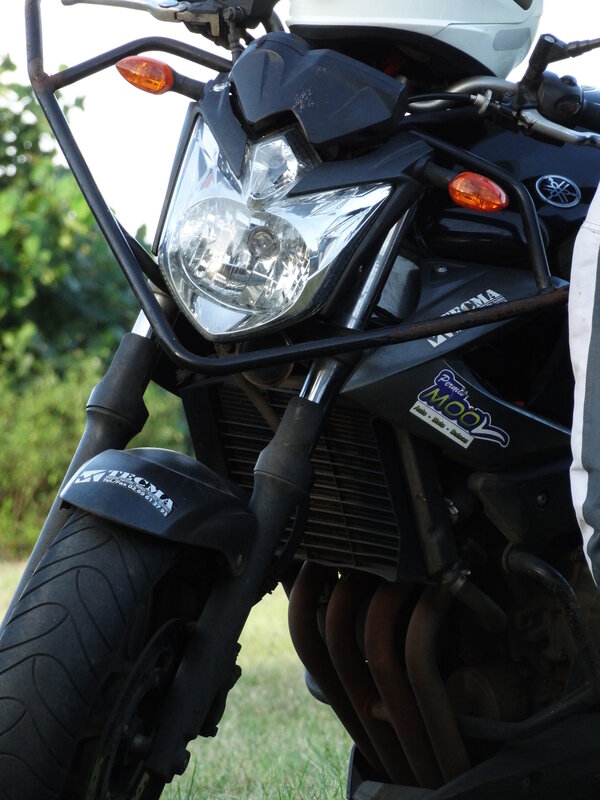 I recently had a couple of acquaintances over. The sort of people who'll give you absolutely no news for a year or so, then suddenly pop up out of the blue saying that they've bought plane tickets to Mayotte and can I put them up. They'd timed their visit to be here at the same time as a friend of theirs, a hiking guide on tour in Mayotte at the time, so they were off with him most of the time, which was fine as far as I was concerned. They didn't have anything planned for the Sunday and Pentecost Monday, however, and I did not want to have to amuse them. I'm not a very social person, and they were getting on my nerves by then as they took ages to do anything and had already made me late for work once, which I was not happy about. So when I came across the Moto Club de Mayotte's advert for the yearly tour of the island on a motorbike, I rang up the driving-school instructor to whom I've been trying to teach English (though we haven't had a lesson for ages for various reasons) and asked nicely if he would be going and if he could possibly lend me a motorbike. Immediate yes. Sent a polite text to the couple saying that oh, silly me, I had forgotten these age-old motorbiking plans and wouldn't be around on Sunday after all, got my helmet ready and that was that. They went off happily with their hiking friend, I went off happily to make a lot of noise with people I'd never seen before, and we had loads to talk about in the evening. All good.
I didn't expect the bikers to be quite so true to the stereotype. Lots of noise for a start: 55 motorbikes and one scooter busy making as much noise as possible, first thing on a Sunday morning in a residential area. But also bandannas, tattoos, bad jokes, bottom-slapping and too much testosterone. (And that was just the girls.) Impressive, and about as far removed from my quiet little world as could possibly be imagined. However, beneath all that, they really are lovely people, in that they'll stop at any time to help another biker. At one point during the trip, we stopped on a beach, and the track down to said beach looked dangerous and scary for me. I stopped, panicked quietly and asked for help: the first guy I asked stabilized the bike while I got off, rode it down to the beach, parked it and brought the key straight back. Then when it was time to leave, another strong-looking guy turned the bike around for me and put it in the right direction, ready to go. I haven't got an awful lot of experience on a motorbike, so it was really nice to have fifty people around me to help if I needed it. During the trip, I also learnt a couple of signals: left hand up and down means slow down, left leg out means there's some kind of hazard on the road (oil spill, gravel, dead animal...), right leg out means thank you.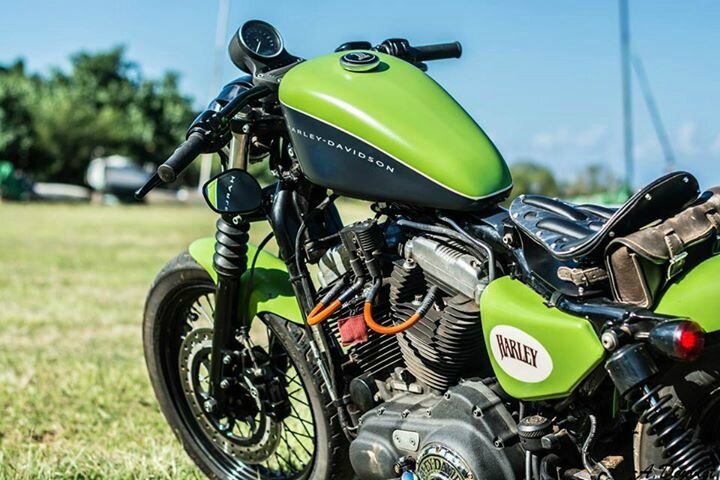 We stopped three or four times during our trip round the island, mostly to have a rest, have something to drink and let the stragglers catch up. Then when all fifty-six of us were in the same place, we would set off again. The event organisers, all experienced bikers, wore neon yellow jackets, and we were all informed that if we had a problem or saw anyone who did, we were to let an organiser know, and he would go to help. They were also instrumental in telling us which way to go. At every roundabout and major turning in the road, they would block all traffic until the fifty-six bikes had gone through, then overtake the lot of us and head for the next one. The idea was for everyone to drive fairly slowly, no speed merchants, so that nobody got hurt, nobody arrived two hours ahead of schedule and nobody stayed miles behind.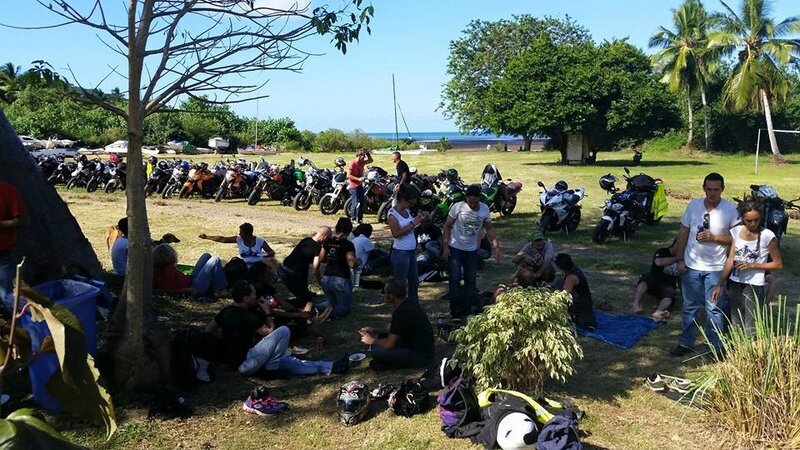 Last year, the Mahorese contingent had stayed with the group for the morning, then declined to eat with them, making excuses about not being keen on that type of food or having forgotten their wallets. So this year, the president of the Moto Club made the food both Mahorese and free. We parked all the bikes in a field, carefully lined up for the photographers (and there were some lovely bikes out there), plonked ourselves down and happily did nothing until the food was ready. We ate chicken wings, cassava, fried green bananas and taro root, then various bikers started getting up and saying goodbye. The one in the picture with all the smoke is doing that deliberately: it's called "doing a burn" and is designed to impress. The morning was all laid out, with a clear itinerary and organisers blocking traffic for us, but the afternoon was free for those who wished to go home whenever they felt like it. I was tied by the borrowed motorbike, but we made our way quietly back to the driving school in the late afternoon.