11 juillet 2015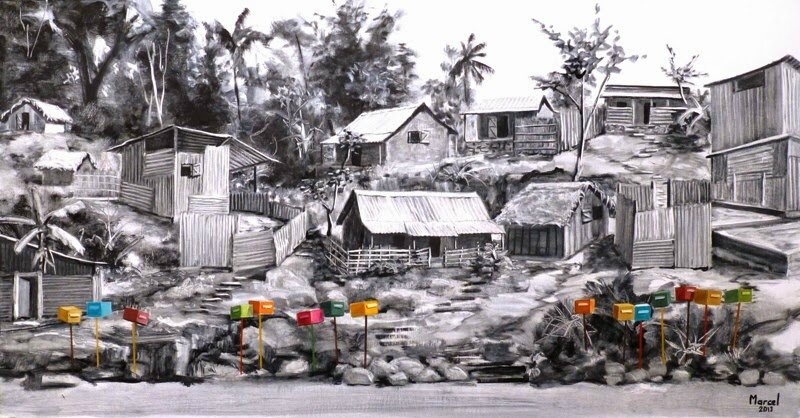 When I arrived at my Mahorese school, I met several teachers who were in their last year in Mayotte. And universally, they told me that when you're in your last year, you're already at your destination in your mind. One, named Henri Denglades, was going back to his native French Guyana at the end of that school year. From September until the end of the year, he was mentally already there, thinking about how he would see his family again and reclaim his house. Every month of his last school year, he sent a box of stuff to said house, an idea which was designed to save him moving containers of clutter around at the last minute.
At the beginning of the school year, I knew I was going back to France, but there was nothing concrete to visualise as I had no idea where I'd end up. I've been in Lille in my mind ever since March, when I went up there and found a flat. The final paperwork for the flat arrived some time in June, a bit last-minute but we got there eventually. I've got a meeting with the solicitor about a week after I get back to France to sign some more paperwork and collect the keys to my new home. And since March, I've been thinking about this flat and the town itself, imagining myself living there, looking forward to some things and dreading others. I've also been trying to make the most of my last few months and then weeks in Mayotte, doing things I've wanted to do for a while now such as riding a motorbike round the island or competing in the tyre-race again.
Mayotte has taught me quite a lot of things.
At school:
How to develop my own teaching style, which apparently means sitting cross-legged on the desk or on the floor in the middle of the room, doing cola tastings, designing posters and adverts, bringing in vuvuzelas, working on a new logo for the school and winding up teaching more drama than English.

How to concentrate on educating girls, because they're the ones Mayotte depends on and they're the ones who are the most likely to leave the island one day. And how to be a female role-model for girls who don't really have one of those at home.

How to understand that not all kids need to speak English, and that for some of them, an hour of sleep is going to do them much more good than an hour of gobbeldygook.

How to use their natural ear for languages and integrate words in Arabic, Swahili, Shimaorese, French or Malagasy into my lessons when they know the translations. Also how to interest them in languages in general by translating directly from Shimaorese into English and back. (I only know about ten words, though, so that doesn't last long.)

That you don't have to understand the language they're speaking to get an idea of what mood they're in and whether they're complaining or they're pleased about something. Also, that you quickly learn to know when they're talking about you, even if you don't understand the words.

How to be ridiculous and have a good laugh with the students. And then act surprised when students from other classes hear about your antics and ask you to do it again.

How to have a reputation as an interesting teacher, both in the classroom and in the staffroom.

How to deal with kids who can't read or write, kids who don't care, kids who are shattered because they work too hard in the fields or at home, kids who can't concentrate because they're hungry, kids who insult each other every two seconds, kids who steal things, kids who beg in supermarket car-parks, pregnant kids, kids who have kids, kids who attack and rape other kids.

And that it's perfectly acceptable to call my kids in for group hugs before they leave the school forever, the crying girls and even the grumbling boys, and that the students will probably remember me for it, even if it's just because I embarrassed them in front of their friends.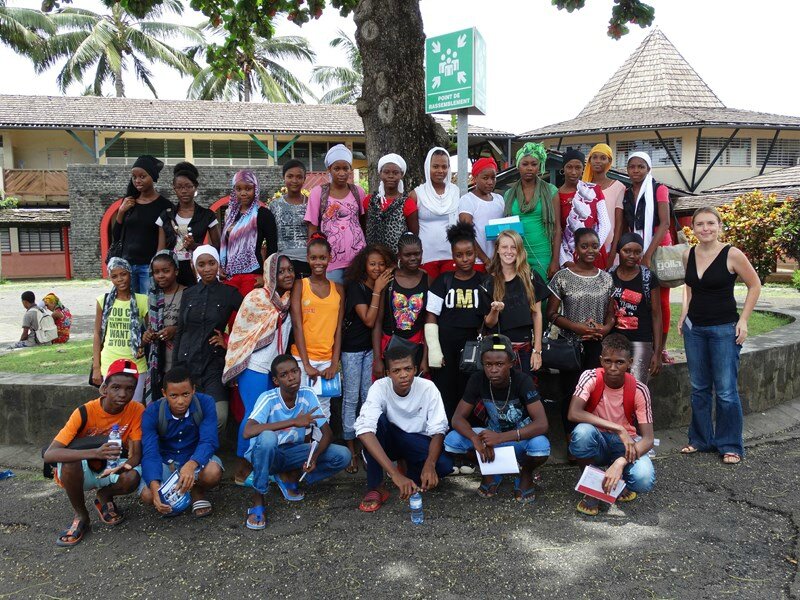 In everyday life:
How to drive a motorbike like a civilized person and a car like a maniac. How to avoid potholes, drive three to a lane and squeeze the car past delivery vans and bush taxis stopped in the middle of the road so that a passenger can buy some fish.

How to turn an adult student from a nervous nutcase into a confident manager who can get by in English in his everyday work life, and then go bright red when he decides to come up and say thank you (in front of my boss) after three and a half years of lessons.

How to recruit and train a tyre-racing team, then compete in a tyre-race in the proper fashion.

How to swim with flippers and a mask. You don't get a lot of chances to do that in Poitiers. Also, briefly, how to manage an oxygen bottle and diving jacket.

How to reliably protect myself from the sun.

How to organise a Breton folk-dancing evening.

What it feels like to be solo flute in a concert. (That's not going to happen again in a hurry: in France, there's always someone better than you, whereas in Mayotte, they'll take what they can get.)

That tamarind and jackfruit aren't just found in chip form in Chinese-owned shops, but grow wild and can be found on lots of roadsides and hiking routes round the island. What a soursop looks and tastes like, and what a pineapple, banana or papaya looks like when it's still growing. That mangoes and oranges can be bright green but perfectly ripe inside, and that exotic fruit in the French supermarkets doesn't look or taste much like the roadside or back garden version here.

That you don't have to wait for green bananas and papayas to ripen, you just pick them as they are and use them as vegetables. It's a fight to peel the things, though.

What a breadfruit is, and how to cook and eat it. Also how to cut up a jackfruit, and how to cook cassava and taro root.

How to manage a (really) long-distance relationship. And a few temporary ones which are doomed from the word go, as both parties know that they're heading to different parts of the world after Mayotte.

How small the world really is. Even on the other side of the world, you're bound to meet someone who comes from the same area as you. And when that happens, you spend ages talking about one small village neither of you have been to for the last fifteen to twenty years.

How to move house on my own, including painting walls, getting quotes from moving companies, trying to get the Internet company to remove their satellite installations without bringing the wall down, selling my stuff, camping in the flat after the furniture buyer came two days early because he could only borrow a lorry on that day, stopping electricity and water services and managing two cats who had decided they'd rather travel with the moving company than with me.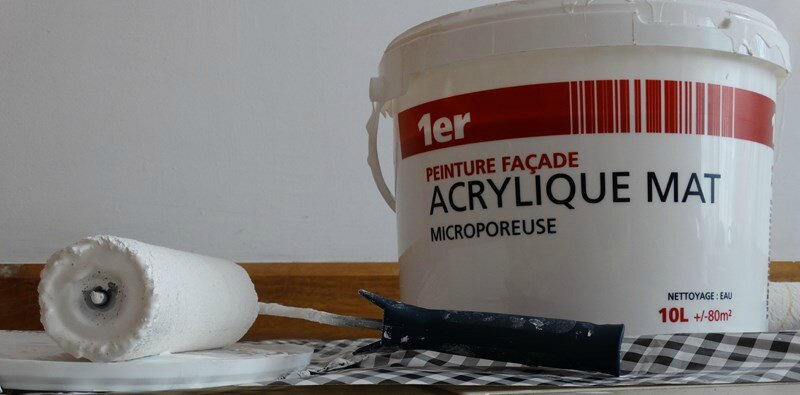 First came the movers, and some wishful thinking on the cat's part, then I repainted the flat, predictably ending up with interesting white-streaked cats and furry walls. A friend came on Tuesday with a few strong lads to collect the furniture, turning a mat into my new bed for the last few days.
Moving back to France, I'm looking forward to...
A change in the weather, to start off. It'll be cold, and rainy, and the sky will be grey, and sometimes I'll be setting off for school and/or getting back in the dark. I'll need a duvet for the first time in forever, and I can see myself huddling under the cover and watching the rain fall outside. I won't need air-conditioning and fans any more, but I'll have to put the heating on and wear a pullover. I'm looking forward to it.

Fresh fruit and vegetables. Lots of them. Cherries, strawberries, courgettes, leeks, cauliflower... most of which, apart from at various Christmases, I haven't eaten for four years. Also cheese, bread that tastes like bread, fresh chicken, and food that in general doesn't cost the earth. A friend's wife recently came to visit, and was instantly chastised by various acquaintances for not bringing cherries. I'll happily eat mangoes, pineapples and papayas here, then go back to France and eat apricots and peaches, but I don't actually miss European fruit (as opposed to Cadbury's chocolate, which has no equivalent) or feel the need to import it. However, I'm looking forward to the wider variety of available fruit and veg back in French supermarkets.

Fresh food without ants in it, dry food without weevils in it, a sink without a resident population of various insects and a flat without cockroaches, lizards, lizard droppings or large centipedes with painful stings.

Buying things. I'm not sure whether that's a good thing or not, as I tend to go shopping, but there will be much more access to consumer products of all sorts, especially as Lille is the fourth largest town in France (after Paris, Marseille and Lyon). No more waiting for hypothetical containers to arrive with or without whatever it is you need, and no more great long waits and high postage fees for getting things sent out here by companies that may or may not deliver to the middle of nowhere. Access to shops like Ikea, Auchan or Decathlon, as well as Le Comptoir Irlandais, which is the national go-to chain store for British products in France. Access to web-based shops and sites like eBay.

Talking of buying things, I'm looking forward to owning my own flat for the first time, and not just paying money to someone I only see once a year when it's time to put the rent up. This is going to be my space, which I'll be able to decorate or mess around with, and which I'll be able to rent out to someone else when I want to be an expat again.

Being able to walk around on my own whenever I feel like it. Not feeling that I have to take the car and drive to the supermarket, which is easily accessible on foot, just because it's after six p.m. and dark outside.

Being able to go for bike rides, just for the fun of it, without being discouraged by the humidity, the heat and the endless ups and downs of a volcanic island. I wanted a bike when I first arrived in Mayotte, but it really isn't practical here.

Walking on flat, stable surfaces without holes, gaps, planks, gravel or oil spills, and driving on roads without potholes and without having to weave all over the road to avoid smashing the car's shock absorbers.

Being able to go folk dancing. Currently, there's only the one traditional French folk group on the island, so if I want to dance with someone who knows the steps, that means removing two musicians from the group.

Teaching in a lycée (secondary school, 15-18 year-olds) rather than a collège (middle school, 10-15). Hopefully being able to do more than tell the students to sit down, go back to their seats, no, it doesn't matter if you underlined in green instead of in red, stop shouting for heaven's sake, don't insult him, and what do you mean he stole your pencilcase? The school I've been transferred to doesn't have any literature or language classes, just scientific and management groups who have a couple of hours of English a week, but they do have BTS (brevet de technicien supérieur), which take students for two years after the Baccalauréat and teach them professional skills. Now that should be interesting. Plus, it's not too far from my new flat (the one I haven't got yet), when they could easily have sent me two hours' train ride away then two hours' train ride back in the evening. It's a big area.

Being able to take a bike, a car, a train or a plane and travel several tens or even hundreds of kilometres on a low budget, rather than either driving round a small island or paying a minimum of eight hundred euros to get off the island. Travelling in a straight line and ending up somewhere new, or looking at a map and thinking: right, where shall I go? Paris Roissy airport is an hour's train ride away from Lille, things are getting interesting.

Above all, back to France means closer to England and closer to home. I like living on a tropical island and I'm very pleased to have spent a few years on one, but I'm looking forward to being able to see the family more than once a year. I also have a few friends who have managed to stay in touch, most of them now married and/or with babies, and I'm looking forward to seeing them again. I already have a friend who's coming to visit for the annual gigantic car-boot sale in Lille, which attracts visitors from all over France. It lasts for two days, takes up the whole town centre, and its main attraction is a heap of mussel shells to which every visitor must contribute by consuming moules frites in the local restaurants, which for the occasion serve very little else. However, I've also realized that I want to go walkabout again some time, and probably fairly soon, otherwise I can easily spend ten years in the same school, same flat, same city.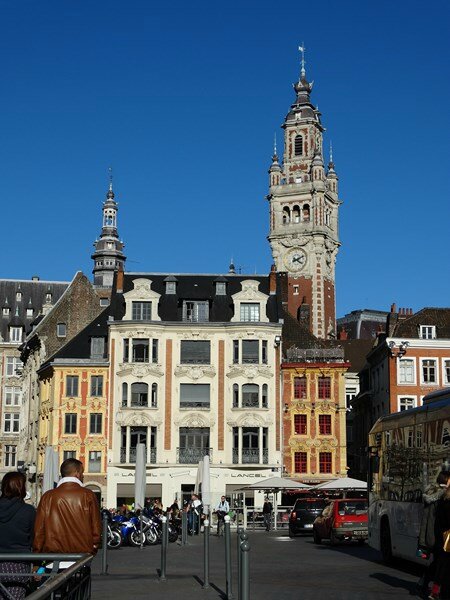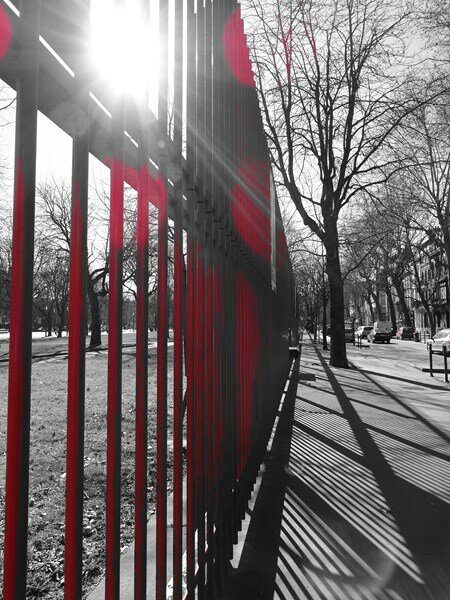 10 juillet 2015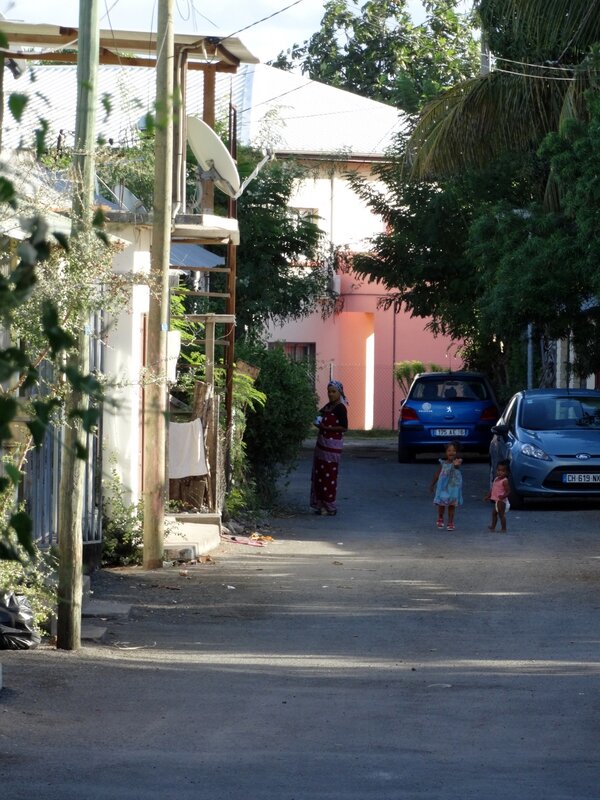 On my last day in Mayotte, I returned the flat keys in the morning, then went to see the man who was buying the car from me. When he had come to my flat to test-drive the car, he had brought a young mechanic with him, and hadn't actually driven the car at all. Today, he asked to drive the car round the block, and exclaimed vigourously at each noise or unusual movement in the car, such as the gear stick which was slightly loose. He then walked round the car and pointed out every single bump and scratch, cross-examining me on whether that was there last month when he saw the car for the first time. Finally, he noticed the one thing that hadn't been there last time - a small hole in the plastic covering the rear lights - and proclaimed that that would cost at least two hundred euros to change. I had been to the garage about that and had a pro forma bill for 70€. "But it must cost at least 200!" He kept repeating himself until I showed him the aforementioned bill, and then he decided that the bill mustn't be quite right, it should be at least 200. We knocked 70€ off the car price, and he seemed happy. I then went to fetch the cats at a friend's house, where they had stayed that night so that I could sort out all my administrative stuff quietly, experienced my last Mahorese traffic jam coming back, handed over the car and got the buyer to drive me to the ferry. This is all with a large backpack, two carry-on bags (which I later fused into one by deleting anything that would be used that night such as shampoo or flip-flops) and two cats.
I took the ferry to the small island, where the airport is. I'm sleeping there tonight as the plane leaves at some unearthly hour in the morning. Upon arrival, I took a taxi to the gîte, freed the cats and flopped on the bed, exhausted by the morning's trials. In the afternoon, I took the camera and went walkabout in Pamandzi, where I took these photos.
I love Mahorese graffiti.
These are the sort of scenes and place names I won't see again for a while, so I photographed plenty of these.
These are typical Mahorese houses and buildings, but Petite-Terre (the small island) is much cleaner than Grande-Terre, the larger island. There were hardly any bins or rubbish tips lying around, and everyone was well-dressed as we're still in Ramadan month.
Followed this young lad for a little while. His sister had gone ahead with a huge shopping bag balanced on her head, but he was obviously finding carrying the water quite hard going.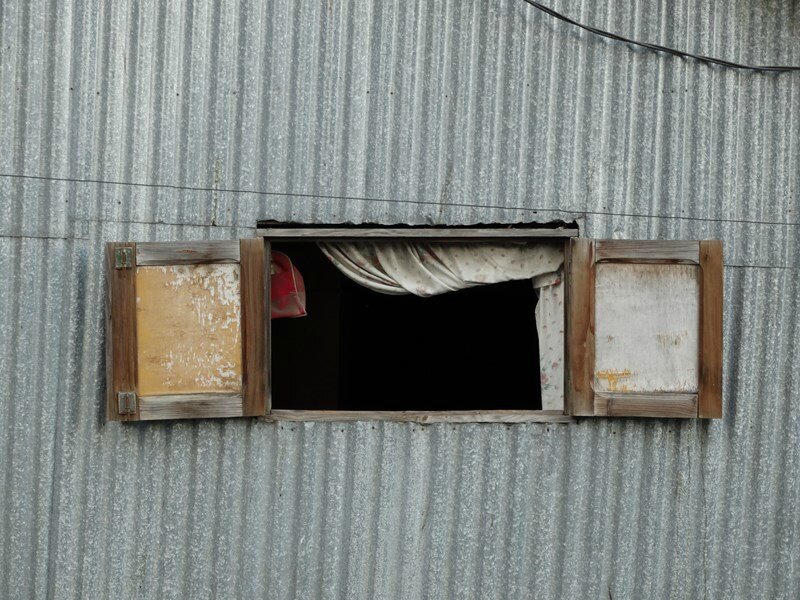 Same as every other village in Mayotte: in Pamandzi, there is a lot of corrugated iron about. All these are houses, and I don't think I'll find spaces for letter boxes carved out of a corrugated iron wall anywhere in Lille, somehow. However, as you can see on the last photos, they all have a lovely view of the airport runway, but further on, of the lagoon and of the relief of the larger island in the background. Also, they may live in corrugated iron shacks, they may have nothing to eat... but they'll all have mobile phones and satellite dishes.
06 juillet 2015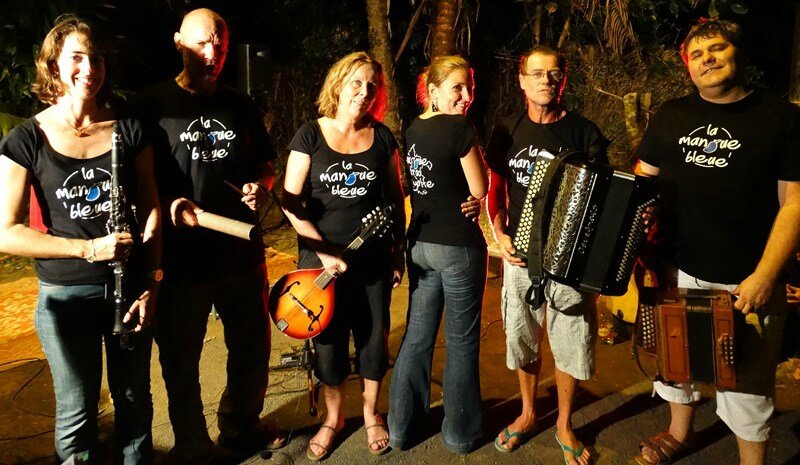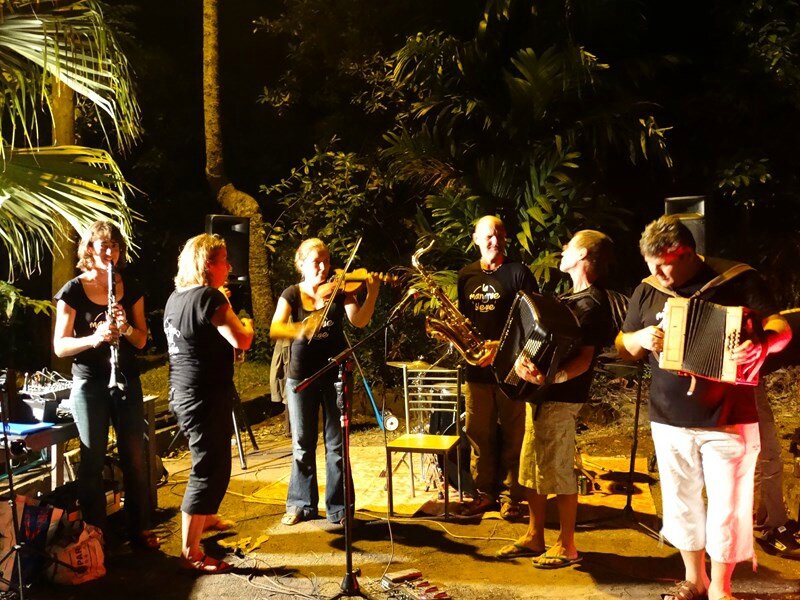 The Blue Mango now has t-shirts.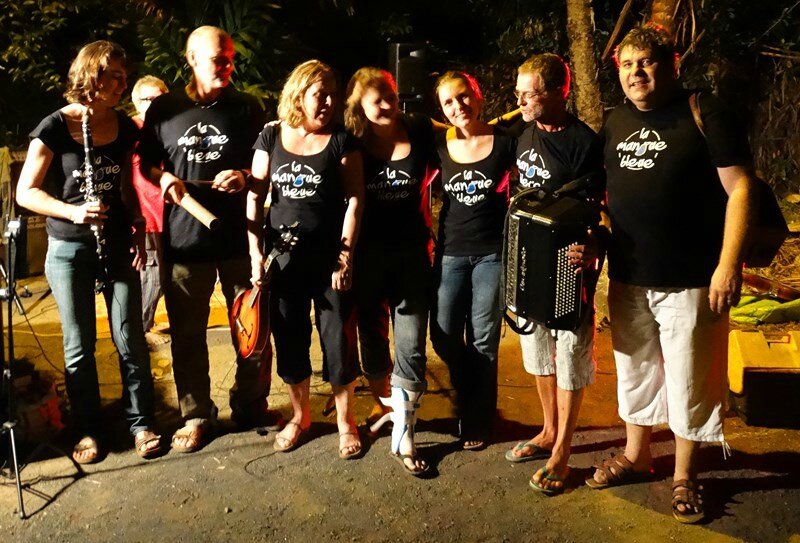 29 juin 2015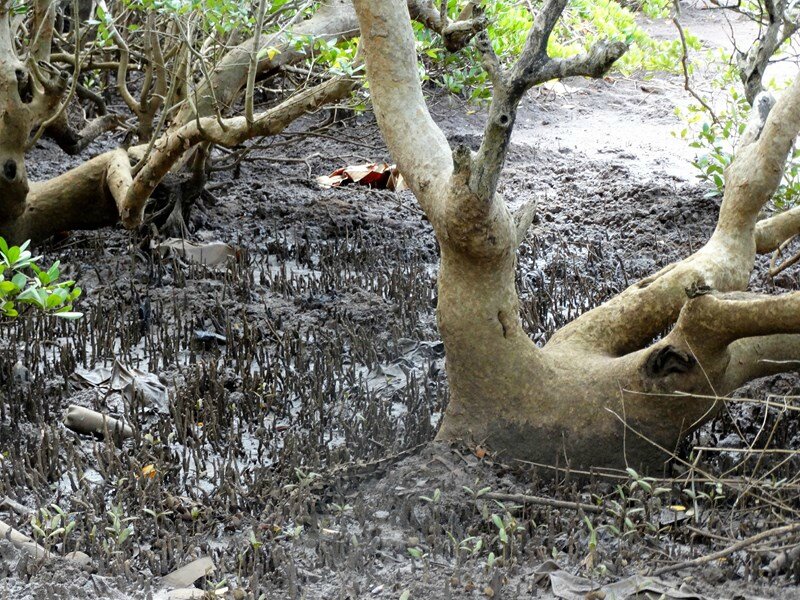 I've been fascinated by the mangrove since I arrived in Mayotte. The mangrove goes pretty much all round the island. From most points on the coast, you can either see it or smell it, or both. Mangrove trees are salt tolerant, and they have an very simple way of coping with the salt they're immersed in all day: they're mostly impermeable to the stuff, so it doesn't get much farther than the tree root. They also limit the amount of water lost from their leaves by turning away from the sun rather than towards it, thus retaining as much moisture as possible.
The best thing about the mangrove trees is the pneumatophores, or aerial roots. They're the bits that allow the trees to absorb the gases and nutrients they need. There are seven species of mangrove tree in Mayotte, known as palétuviers, and they all have their own type of root, but all these roots are shaped like tubes, the main idea being to allow the trees to breathe.
In Mayotte, the mangrove limits coastal erosion (stopping sediment going into the lagoon one way, and stopping the waves doing too much damage the other way) and harbours lots of little fish and crustaceans which come to live and reproduce in a protected and relatively calm area, so it's a wonderful (if rather smelly) resource for people who live nearby. However, said people are also the main threat for the Mahorese mangrove. As the Mahorese water filtration and general cleaning system isn't that great, the mangrove serves as an unwilling filter for the used water which comes straight down the rivers from people's houses. Scientists have been testing the mangrove's filtration power, and it turned out that the dirty water is infiltrating the soil by going down the holes and tunnels made by crabs.
Mangrove crab, known as "violinist crab" because of its one large claw. Delicious, even if they do tend to cross the road unexpectedly.
While they were at it, they also studied mangroves in the other French overseas departments. They found out that the Guyanese one didn't seem affected by human influence but was moving a couple of kilometres either way every year because of the coastal movement, and they're currently working on what makes the New Caledonian mangrove so good at capturing carbon.
2015 has been called "the year of the mangrove" here in Mayotte, so as to increase awareness of the crucial role the mangrove trees play in the Mahorese ecosystem. Here's the newspaper article: http://lejournaldemayotte.com/une/2015-annee-de-la-mangrove/.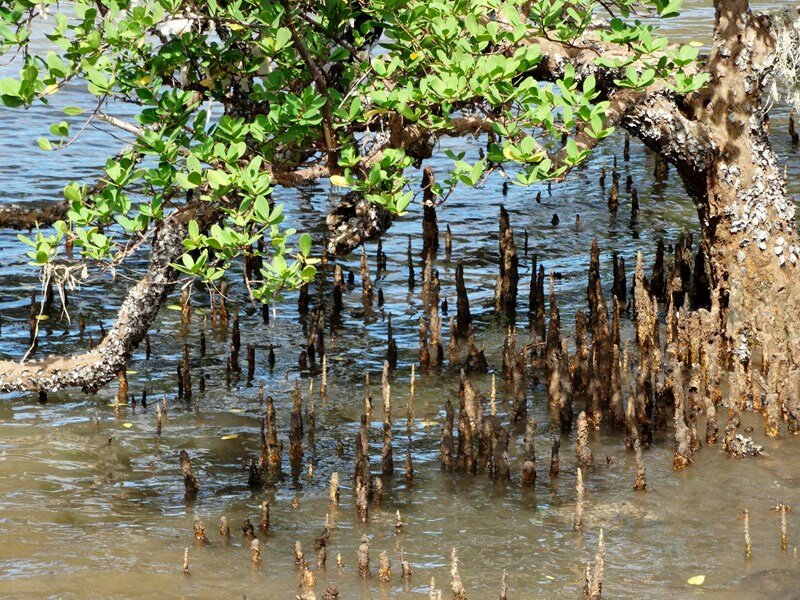 25 juin 2015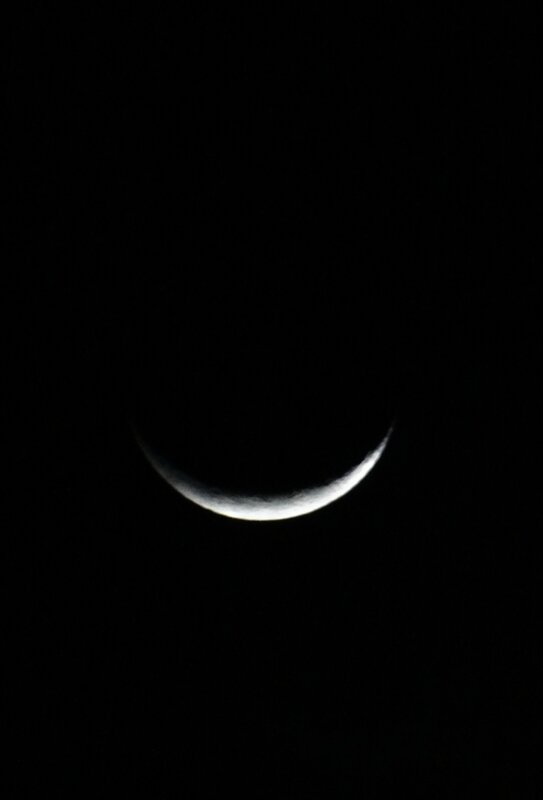 Seen from Mayotte, the moon looks like a smile.
This is the first moon of Ramadan this year. Ramadan, or a period of roughly one month when Muslims do not eat or drink between sunrise and sunset, but gorge themselves on fried food and sugary treats at nightfall, comes a fortnight earlier each year, so you can predict its arrival to within a day or three. However, as with all important Muslim calendar days, the actual beginning of Ramadan depends on whether the high Muslim authority, known as the Cadi, has seen the moon or not. This year, Ramadan was to start on either the 18th or the 19th: if the Cadi saw the moon on the 17th, Ramadan would start on the 18th; if he didn't see the moon until the 18th, it would begin on the 19th. This rather imprecise system has brought about quite a bit of frustration over the years, especially on a particular Muslim fete day called Miradji (the equivalent of Assumption day, but replacing Jesus with the prophet Muhammad) a couple of years ago when the Cadi thought he had seen the moon on one night, then decided that he must have had a little too much to drink and hadn't seen the moon after all. The result was that some companies and institutions worked both days, others had both days off. My school told the kids they would have the first day off, then changed its mind, tried to call them all back and said they would have the second day off instead, so we had half attendance on both days.
When I arrived in Mayotte, it was on August 15th 2011, during Ramadan. I'll be leaving on July 11th 2015, also during Ramadan. Ramadan is not the best time in the year to try to get anything done, as people are tired out during the day from fasting and from partying all night. During Ramadan, Mayotte sleeps by day and comes alive by night. Kids are tired, hungry and scratchy, and adults will refuse to do anything work-related after 5.30 p.m. Class councils, which often happen late in the evening, are boycotted by all the Muslim staff, who are at home with their families.
Ramadan is a period during which people don't only fast. They're also supposed to respect a few other tenets of Muslim law. They must be good to others, they must pray even more regularly and with more fervour than usual, and they must not anger other people. Which rather comes in handy at school: if you make your teacher angry during Ramadan, you're a bad Muslim. We can't have that, now, can we.
22 juin 2015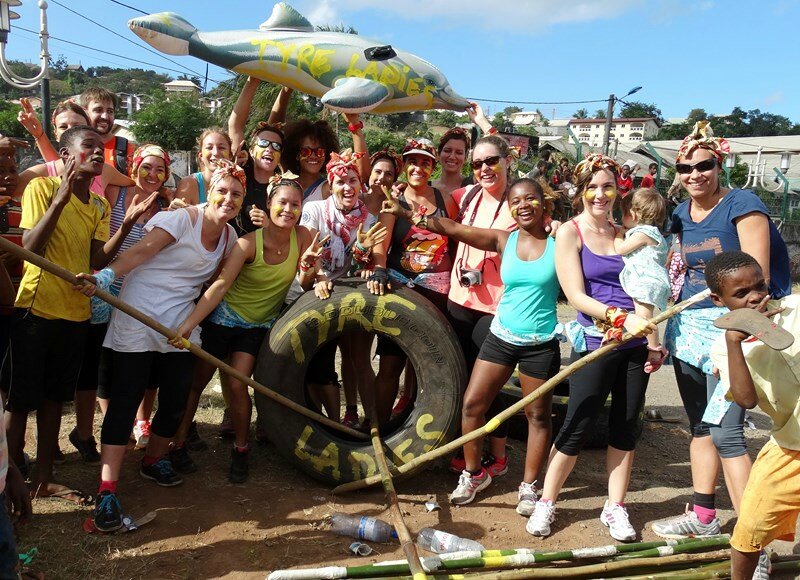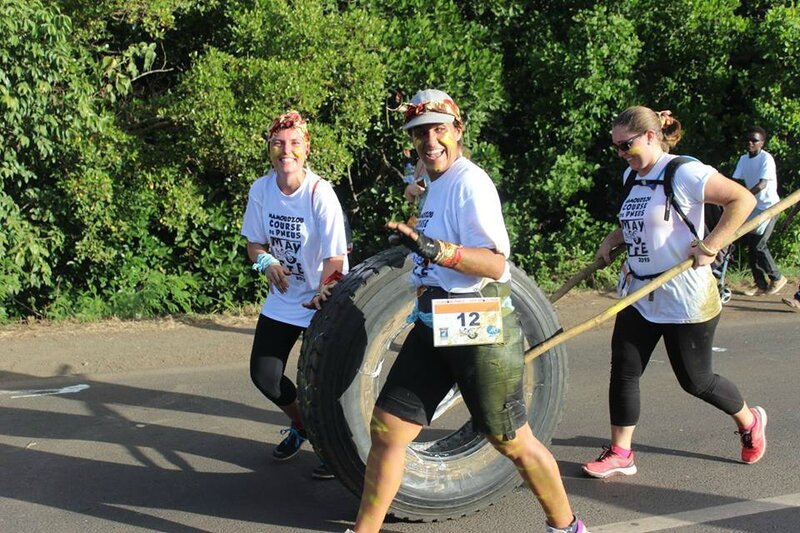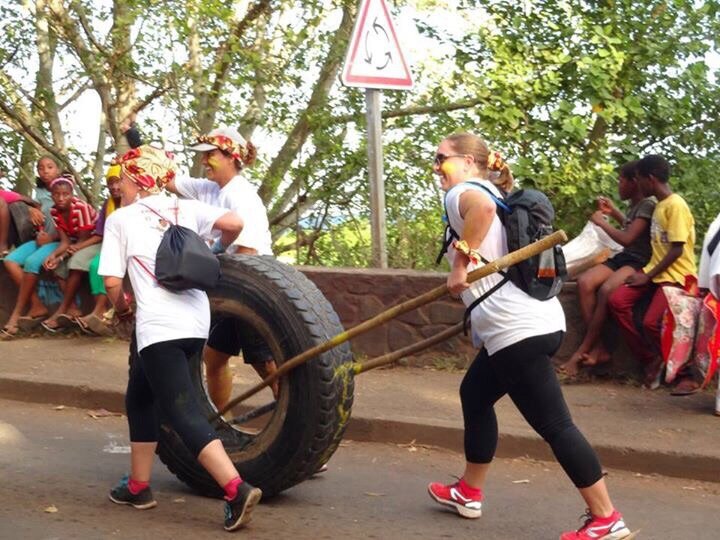 Last Saturday was the tyre-race. Just to be different, I'd decided that this year, I wanted to run with a big tyre, a lorry tyre, one of those huge things that come up to about chest level. I knew the time-keeper for the tyre race, so I talked him into creating a category for me and letting a team of girls run with the big tyres, which has never been done before as only men have attempted this feat in the past. However, we did adapt it just a little: instead of having a team of five girls with five lorry tyres, we kept the five lorry tyres and almost tripled the number of girls running. We ended up with fourteen girls for five tyres, which as it happened was only just enough to get the tyres as far as the finish line.
Recruiting was a bit more hazardous than usual. A team of five is hard enough to come by, never mind a team of ten as initially planned, so we invited friends and friends of friends until we got to ten. One then proceeded to break her toe and sprain her ankle, another managed to slip and hurt herself just before the race. Down to eight. I sent out messages to everyone I could and started asking every girl I met what she would be doing on Saturday afternoon, then one of the runners came up with three friends at the last minute.
Collecting the tyres was also good fun. The last two years, I've been able to fit the five small tyres in my car boot and had proudly carted them about for the week before the race. Unfortunately, only one big (and, to be honest, rather smelly) tyre would fit in the boot, and with a shoe-horn at that, needing at least one strong man to put it in and at least two to get it out again. After various adventures and shifts, we got two tyres down to the stadium and batted our eyelashes at the tyre supplier to obtain (last-minute!) delivery of the remaining three on the day of the race. One of the girls brought plenty of sticks with which to push the tyres, and we were ready. We painted them all with yellow stripes, as another girl had brought a can of yellow spray paint, and went to watch the kids' start to the race, always fun as 800 boys start off at the same time and careen into each other. When we got back, we had precisely one tyre and three sticks left, and several other competitors, backs turned and looking very busy all of a sudden, were standing with ill-gotten yellow-painted sticks and tyres. We rounded them all up, thanking the girl who had brought the spray paint, and went to fetch our t-shirts, of which there were only five instead of the promised ten, as the organiser had forgotten about us. We complained loudly and were informed by the lady at the collection desk that she couldn't do anything, she needed the organiser to be present... organiser who was, naturally, at the finishing line... and we were to be off in ten minutes. He finally arrived with about two minutes to spare, was immediately jumped upon by ten girls in need of Tyre Race t-shirts, and found us five more shirts to run with.
We thought we had our own category, but ended up being lumped in with the other six big tyre groups, which, after the kids, are the attraction of the race as once you've seen the race once or twice, you know what seventy teams of adults pushing small tyres look like. We took 23.28 minutes to complete the 2.5 kilometres with our huge tyres, and didn't even finish last, which we were extremely proud of!
This particular tyre-race had an unexpected spectator: Manuel Valls, the French Prime Minister, as well as Najat Vallaud-Belkacem, Minister of Education. They stayed for about two minutes, congratulated the winning girl, took some photos with a few poor children, listened to a performance of the Marseillaise in Mahorese by a local school choir and turned their backs on this once-in-a-lifetime event to make some more promising speeches.
In honour of his coming, a local group called "ton petit Dom" (your little Dom, Dom being both short for the first name Dominique and an acronym for the Département d'Outre-Mer, or French Overseas Department. Mayotte is the youngest overseas department of France) had displayed signs like the ones above all around the island, framing the route that the ministers would be travelling on. In the cursive hand traditionally taught to French children, they say things like:
"Hello Manuel. Mummy wanted to call you, but she's had her bag stolen again. Lots of love, your little Dom."
"Hello Manuel. Daddy didn't have to tidy his shop this morning, there was nothing left. Great, he got home early! Lots of love, your little Dom."
"Hello Manuel. So that Mayotte is nice and clean, could you come and visit us every Saturday? Lots of love, your little Dom."
"Hello Manuel. Here, the bad sharks live in the streets, and I'm scared. Lots of love, your little Dom."
"Hello Manuel. Here, because of the robberies, we live behind bars, but the weather is lovely. Lots of love, your little Dom."
"Hello Manuel. We, the children of Mayotte, can do anything we like, and we're never told off. It's great! Lots of love, your little Dom."
"Hello Manuel. If you see one of our presidents, can you tell him to look after the children in Mayotte? Lots of love, your little Dom."
"Hello Manuel. Can you lend me a bodyguard to go home after school tonight? Lots of love, your little Dom."
"Hello Manuel. If 4 shops and 2 schools are emptied every month, how many offices will be burgled tonight? Lots of love, your little Dom."
"Hello Manuel. 110 men just for you, but 16 for all of us... Did you play truant from school too? Lots of love, your little Dom."
The idea behind these was to make the Prime Minister aware of the problems in Mayotte without actually confronting him with anything real, as ministers are fragile little things. As every politician who has visited the island has done so far, Manuel Valls made plenty of promises and waved around the idea of "Mayotte 2025", which is way to far away for most people here to imagine, never mind do anything about. He famously promised 16 new policemen for the island, but went around with no fewer than 110 bodyguards during his stay. As for the Minister of Education, Najat Vallaud-Belkacem decided to implement in Mayotte the same school rhythms which are currently used in mainland France and which have generated a lot of complaining there. Now that's helpful.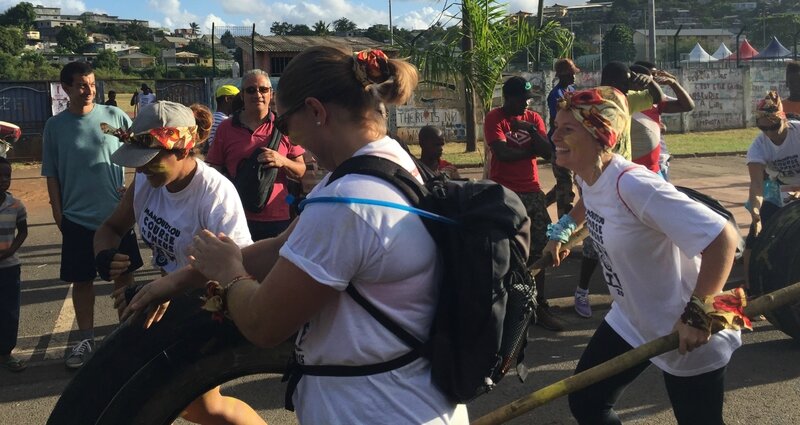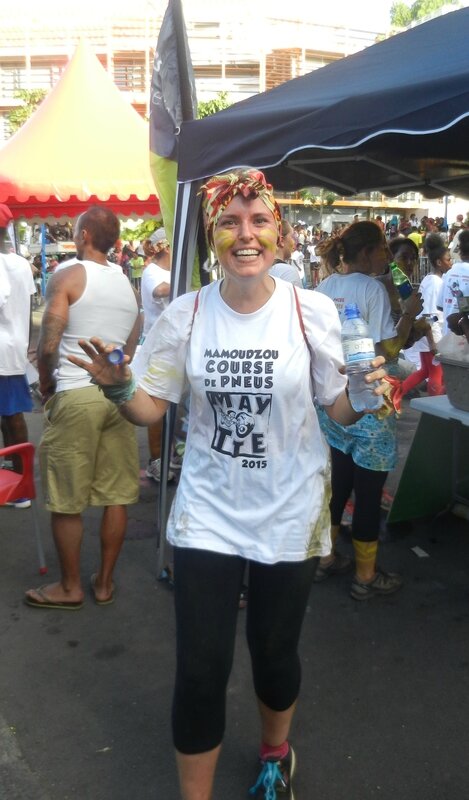 15 juin 2015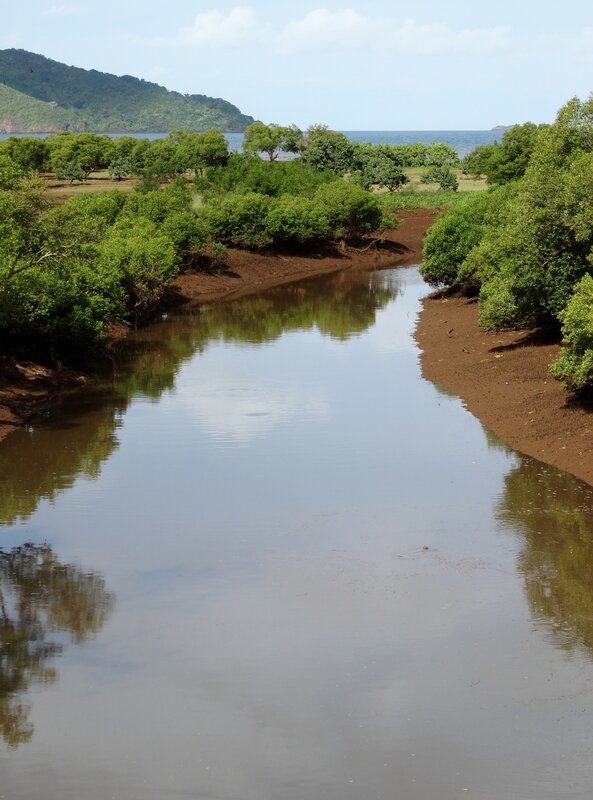 These are some typical roadside scenes in Mayotte. The above photos were taken in the village of Tsoundzou. There's a bridge over a pretty river, where various outrigger canoes were parked.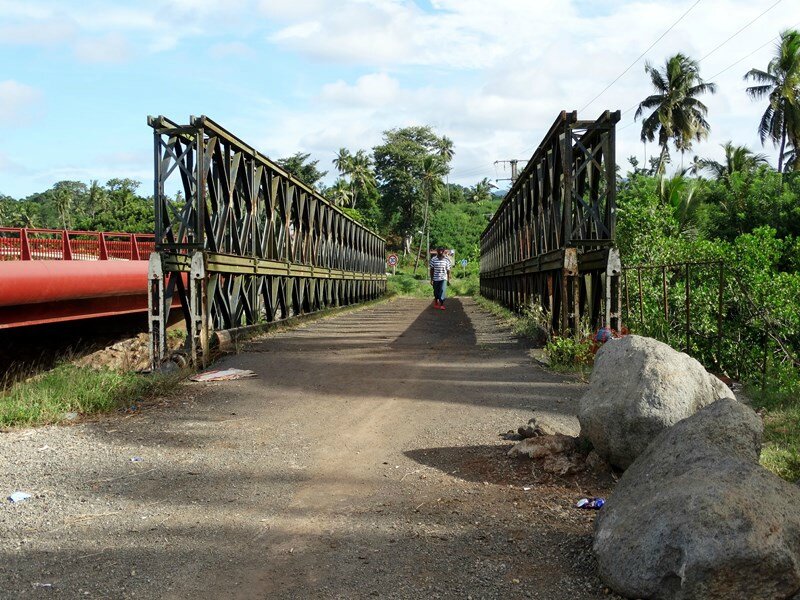 The bridge is actually fairly new. It was started about ten years ago, but the soil kept on being swept away by the river and the rainy season, so it only advanced in small bits. It was finally finished a year or two ago. The old one used to be the main thoroughfare in Tsoundzou, as well as the cause of daily huge traffic jams both towards and away from Mamoudzou, as cars could only pass in one direction. Pedestrians, meanwhile, crossed the river on the thin side-bridge pictured just above. Now, traffic can move in both ways at once. The main effect of this has been to shunt the daily traffic jam up a little bit towards the village of Passamaïnty.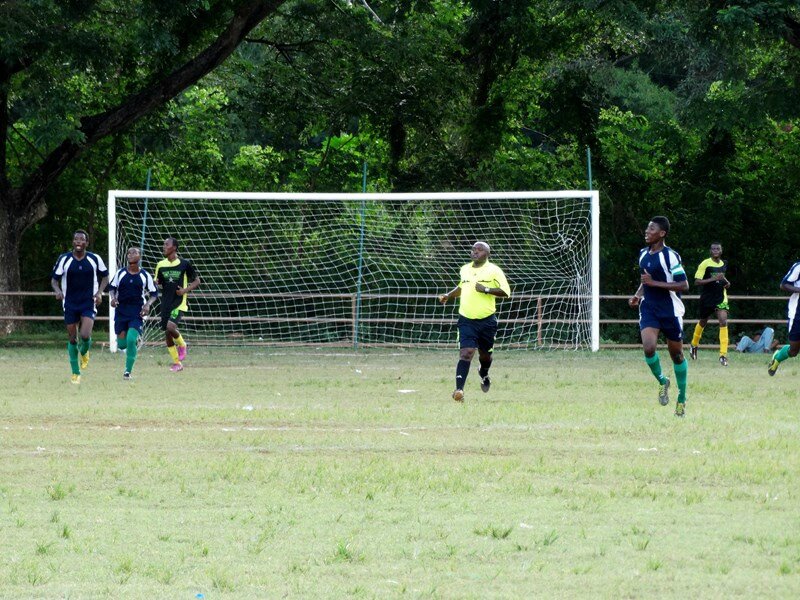 As it was Saturday afternoon, football matches were in full flow all around the island.
Up the road a bit, in the village of M'tsapéré, a container of onions had just arrived. The onions will be dispatched among the local sellers, either remaining in the huge bags or sold loose in the supermarkets.
I also stopped at the market in Dembéni to pick up some fruit. The seller girls were much more friendly than the tired-out ladies in Mamoudzou. They took the time to talk while selling onions, pineapples, passion fruit, guava and soursop, and I was introduced to Echat, Nouriati and Baraka. This is the first time I've been allowed to take photos of the market sellers: they don't usually like that at all. I now have to print the photos and go back to take them to the girls.
I like the produce markets in Mayotte, as the ladies won't let you buy just one thing. I tend to stop at the markets whenever I see pineapples, and as soon as I've stopped and come nearer, they'll all start shouting to me to buy whatever it is they're selling. "Madame, the potatoes!" "Madame, the onions!" "Madame, the avocadoes!". Makes things interesting, as you develop several ways of saying no, thank you, that's fine, I've already got some of those at home.
08 juin 2015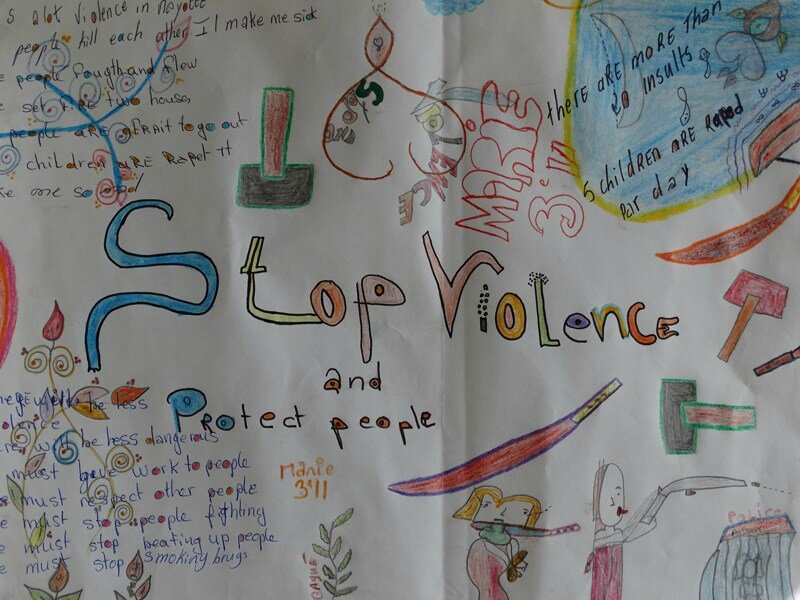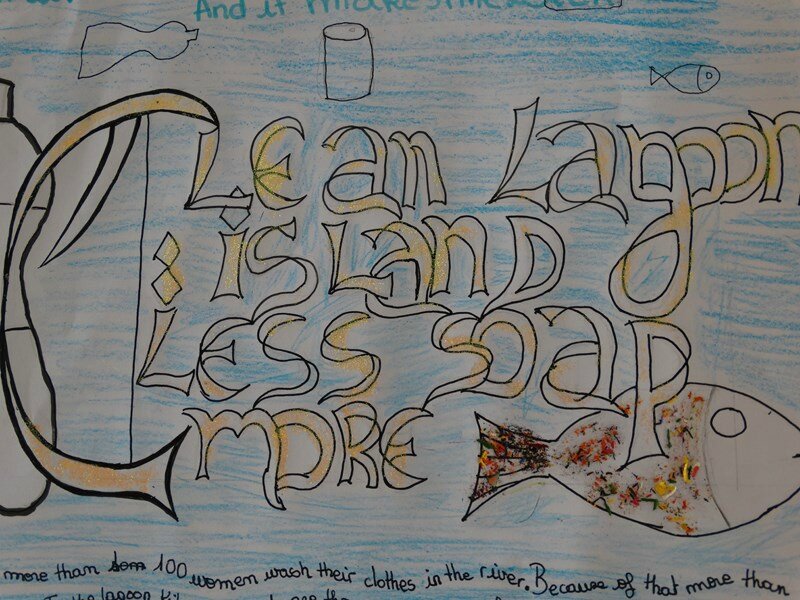 Recently, just for the fun of it, I thought I'd get my kids riled up about something. So I started a nice, light and cheery series of lessons about world problems: racism, discrimination, poverty, starvation, the environment, war, deforestation, animal cruelty, you name it, we talked about it. After a brief spate of "this isn't our problem, why are we doing this, miss?", they got really into the subject and started coming up with interesting ideas. I taught them a few expressions to say how they felt about this, that or the other, and received in return the pleasure of seeing kids go up to the front of the class, shout, throw books on the floor and stamp their feet because "you see, the environment is polluted, rubbish is thrown on the ground by people, it's bad for our health, it makes me so sick and people don't really care!". All in English. Lovely stuff.
We then talked about problems in Mayotte. There were quite a few of those to go around: littering, violence (attacks, rapes, insults, whatever), burglaries, clandestine immigration, turtle poaching, that sort of thing. In a couple of hours' lessons, they had defined the problem, written about how it made them feel (it makes me so mad... it's bad for our health... it just gets me so upset...), researched and/or invented some statistics, found a slogan for their cause and discussed an action plan to actually do something about it. The result was these posters, which I thought were pretty successful. I don't usually put students' work on here, but these really impressed me.
As a result of six classes drawing posters, this is what my classroom looks like now.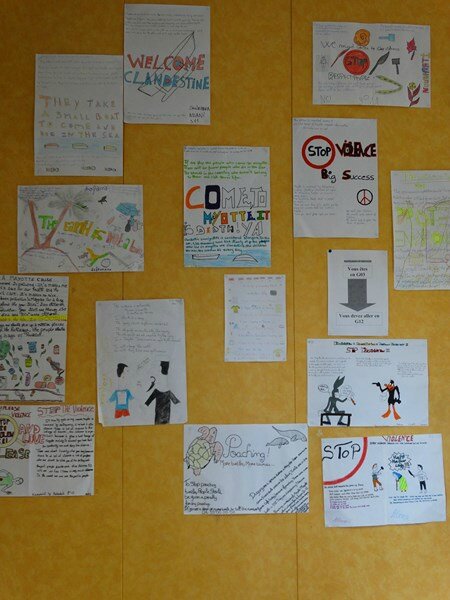 While I'm on the topic of my students, meet Moussa. Moussa is a very bright 14-year-old (or thereabouts) lad who enjoys speaking English very much. He's also a bit of a show-off. I've been teaching them to recite by heart a ten-line chunk of Martin Luther King Jr's "I have a dream" speech, which is quite a lot for a kid that age in their fourth language. Most kids came up to the front, turned their backs on the other students (who were busy filling in a table about peace fighters) and mumbled their speech in my ear as quickly as they could. When Moussa's turn came, he stood at the front of the classroom and announced that he required full audience participation for his speech. I silenced everyone, explained that Martin Luther King Jr wished to speak, and left Moussa centre stage. At some points, the class and I weren't quite sure whether he wanted to keep everyone quiet or whether he was trying to fly, but he knew the speech and delivered it well.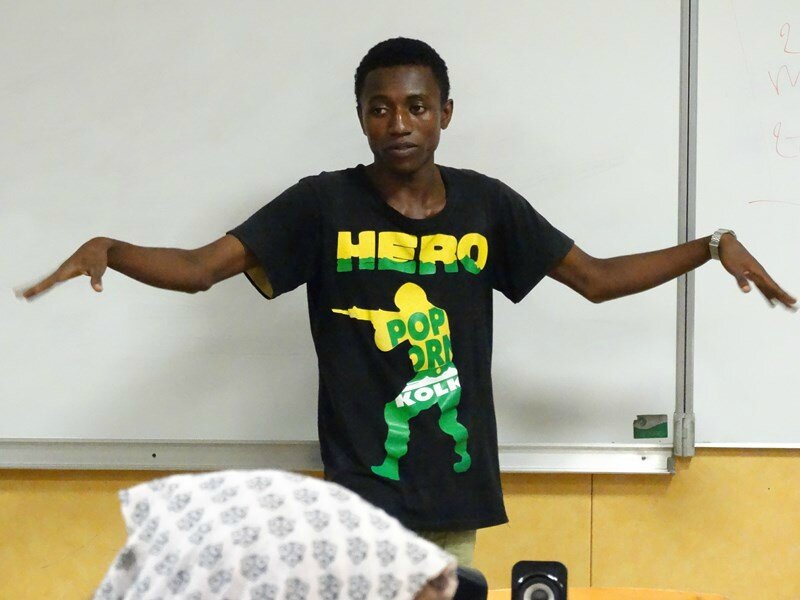 While I was teaching three or four classes that speech, a British colleague of mine in my adult lessons asked if she could see a couple of lessons at a Mahorese school. I brought her in to see my worst class followed by my best class, and with this latter, got them all to recite the speech together, books closed, with decent pronunciation and intonation. We then talked about the two classes. For the (very) good class, she wanted to take them home and keep them. For the awful class, she suggested a fire hose.
As it happens, that speech has helped them with more than just their English lesson. The kids had a History of Art exam the other day: they've been studying various works of art during the year, and the exam was an oral where they were given one work of art out of the five they had studied and told to talk about it and answer questions about it for fifteen minutes. Unbeknownst to me at the time, my kids had studied the "Washbasins of Segregation" in their French class. It's a photo by Elliott Erwitt of two washbasins, where you can see a black man at the "colored" basin. One of my girls was tested on this work of art, and she talked all about the photo itself as well as American segregation practices in general. The jury then asked her if she knew of any other works expressing similar ideas. Martin Luther King Jr's speech, she said. Then proceeded to recite, by heart and in English, the ten lines she'd learnt with me. The jury was suitably impressed, even going so far as coming to tell me about it, and gave her top marks. I love my kids. I really do.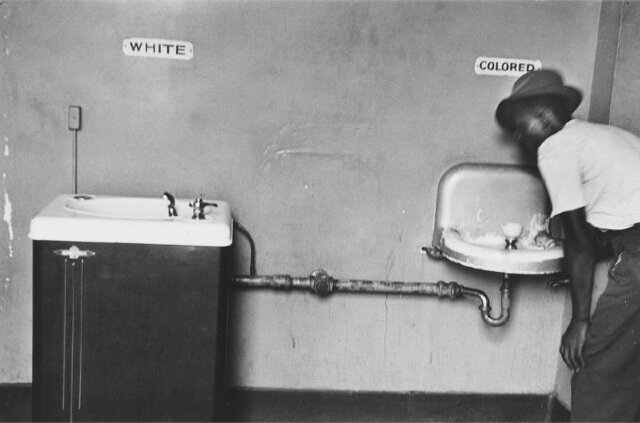 01 juin 2015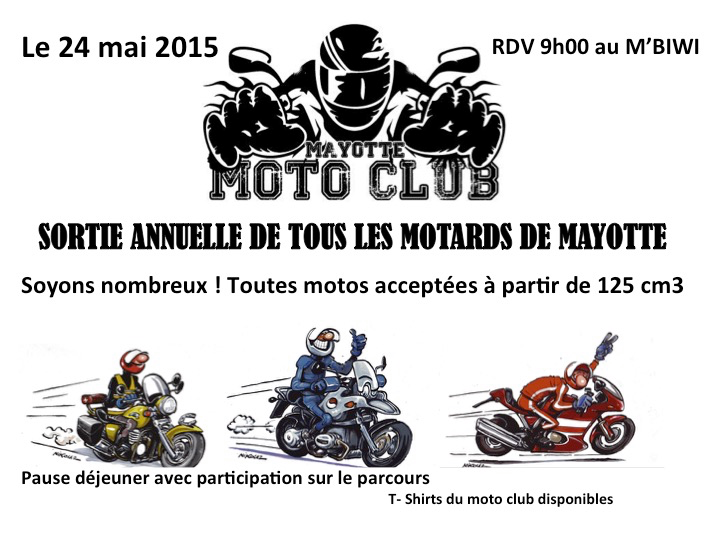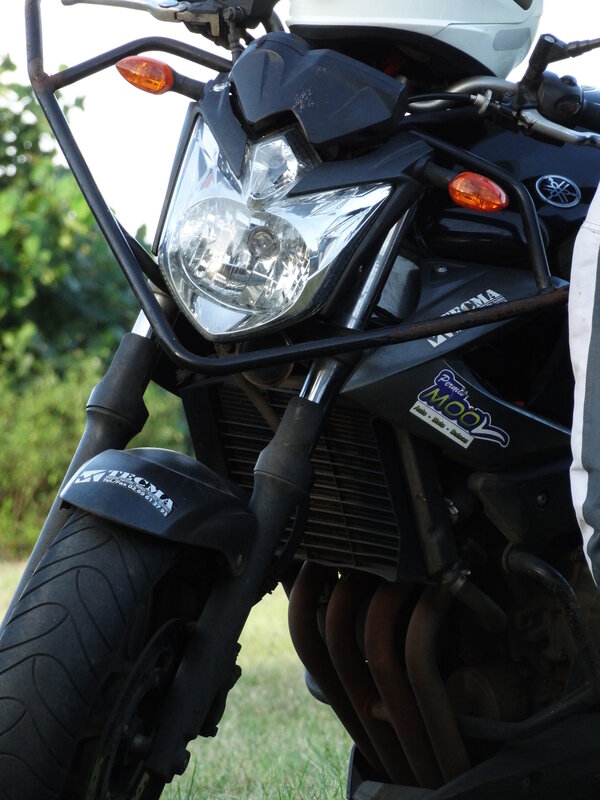 I recently had a couple of acquaintances over. The sort of people who'll give you absolutely no news for a year or so, then suddenly pop up out of the blue saying that they've bought plane tickets to Mayotte and can I put them up. They'd timed their visit to be here at the same time as a friend of theirs, a hiking guide on tour in Mayotte at the time, so they were off with him most of the time, which was fine as far as I was concerned. They didn't have anything planned for the Sunday and Pentecost Monday, however, and I did not want to have to amuse them. I'm not a very social person, and they were getting on my nerves by then as they took ages to do anything and had already made me late for work once, which I was not happy about. So when I came across the Moto Club de Mayotte's advert for the yearly tour of the island on a motorbike, I rang up the driving-school instructor to whom I've been trying to teach English (though we haven't had a lesson for ages for various reasons) and asked nicely if he would be going and if he could possibly lend me a motorbike. Immediate yes. Sent a polite text to the couple saying that oh, silly me, I had forgotten these age-old motorbiking plans and wouldn't be around on Sunday after all, got my helmet ready and that was that. They went off happily with their hiking friend, I went off happily to make a lot of noise with people I'd never seen before, and we had loads to talk about in the evening. All good.
I didn't expect the bikers to be quite so true to the stereotype. Lots of noise for a start: 55 motorbikes and one scooter busy making as much noise as possible, first thing on a Sunday morning in a residential area. But also bandannas, tattoos, bad jokes, bottom-slapping and too much testosterone. (And that was just the girls.) Impressive, and about as far removed from my quiet little world as could possibly be imagined. However, beneath all that, they really are lovely people, in that they'll stop at any time to help another biker. At one point during the trip, we stopped on a beach, and the track down to said beach looked dangerous and scary for me. I stopped, panicked quietly and asked for help: the first guy I asked stabilized the bike while I got off, rode it down to the beach, parked it and brought the key straight back. Then when it was time to leave, another strong-looking guy turned the bike around for me and put it in the right direction, ready to go. I haven't got an awful lot of experience on a motorbike, so it was really nice to have fifty people around me to help if I needed it. During the trip, I also learnt a couple of signals: left hand up and down means slow down, left leg out means there's some kind of hazard on the road (oil spill, gravel, dead animal...), right leg out means thank you.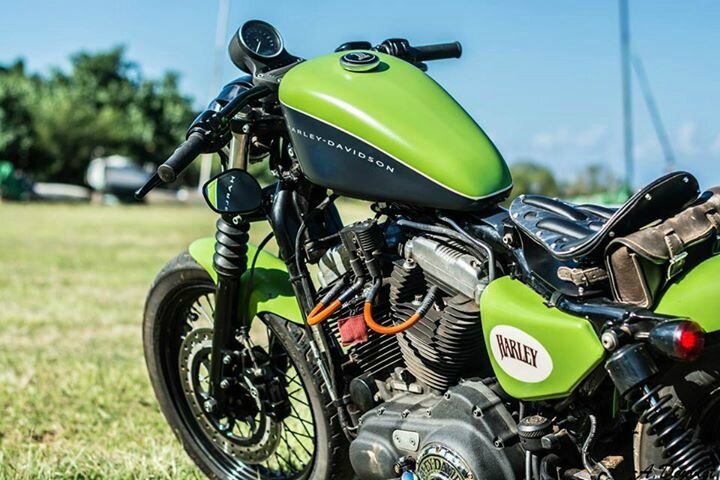 We stopped three or four times during our trip round the island, mostly to have a rest, have something to drink and let the stragglers catch up. Then when all fifty-six of us were in the same place, we would set off again. The event organisers, all experienced bikers, wore neon yellow jackets, and we were all informed that if we had a problem or saw anyone who did, we were to let an organiser know, and he would go to help. They were also instrumental in telling us which way to go. At every roundabout and major turning in the road, they would block all traffic until the fifty-six bikes had gone through, then overtake the lot of us and head for the next one. The idea was for everyone to drive fairly slowly, no speed merchants, so that nobody got hurt, nobody arrived two hours ahead of schedule and nobody stayed miles behind.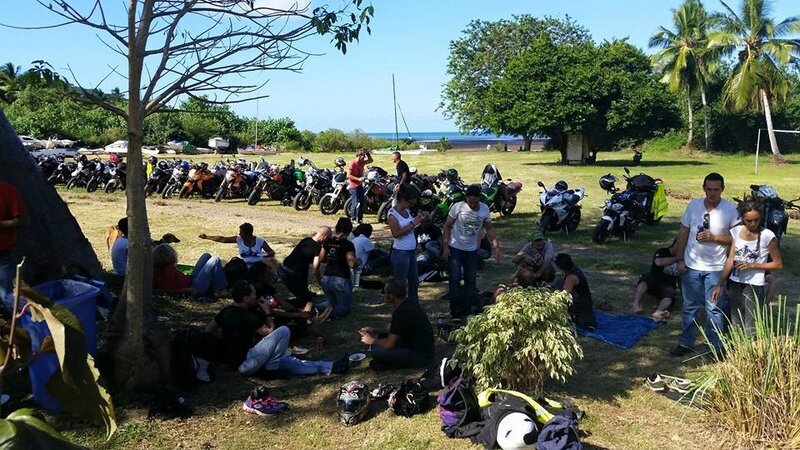 Last year, the Mahorese contingent had stayed with the group for the morning, then declined to eat with them, making excuses about not being keen on that type of food or having forgotten their wallets. So this year, the president of the Moto Club made the food both Mahorese and free. We parked all the bikes in a field, carefully lined up for the photographers (and there were some lovely bikes out there), plonked ourselves down and happily did nothing until the food was ready. We ate chicken wings, cassava, fried green bananas and taro root, then various bikers started getting up and saying goodbye. The one in the picture with all the smoke is doing that deliberately: it's called "doing a burn" and is designed to impress. The morning was all laid out, with a clear itinerary and organisers blocking traffic for us, but the afternoon was free for those who wished to go home whenever they felt like it. I was tied by the borrowed motorbike, but we made our way quietly back to the driving school in the late afternoon.
25 mai 2015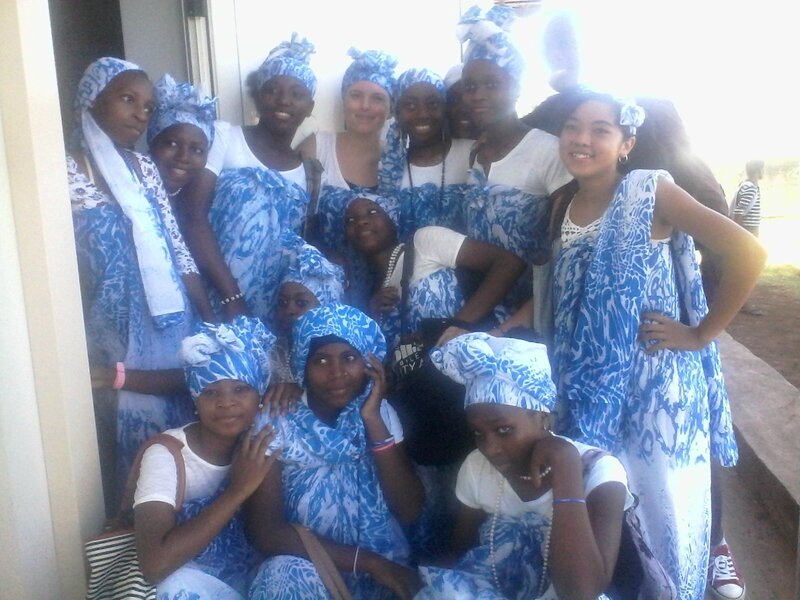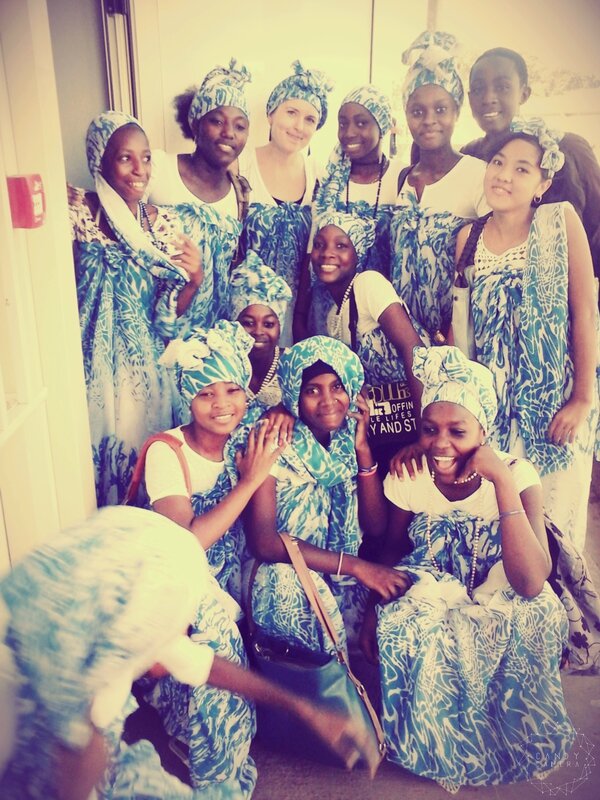 Clockwise from top left: Samianti, Nisma, me, Nadhrati, Moinécha, Moinécha's boyfriend Matthias (who ended up in the photo for some reason), Hoby, Chaharazadi, Djaha, Nabaouya, Laïla and Nassifanya. And the odd unrecognizable fuzzy student.
My kids have been lovely recently. Some of them, anyway.
It started off with Fatima, who gave me an envelope at the start of one lesson, saying that I absolutely must wait until I got home to open it. Inside were a couple of photos of the two of us, taken in the staff car park of all places, on a day last year when the kids dressed me up in a red African dress and headdress. Not the most flattering photos in the world, but good fun, and she had gone to the trouble of getting them printed in colour for me, which is not the easiest thing to do when you have zero resources at home.
Just before the May half-term holidays, my class of 13-year-olds had told me that they were planning to all wear the same salouva (wrap) on the first Friday after the break, and that they had also planned for me to wear the same salouva. On said Friday, already wearing theirs, they brought a wrap and headdress for me first thing in the morning. I wore it all day, being corrected regularly by various students saying "miss, that's not how you wear that" and giggling about how Miss apparently couldn't get dressed on her own. What a hopeless teacher. They spent most of the day taking photos of each other, and we had a photo shoot before the lesson as well. They brought their phones in the next day to give me the photos. During that lesson, I taught them all about school uniforms in England, which made them shout in disbelief at these strange English kids who dress the same as each other all the time and wear the same thing every day.
The week following the salouva experiment, another of my kids, Roukaya, brought in an envelope labelled "For my favourite English teacher. May God make you always be beautiful". Inside was a photo she'd taken of me in the salouva, to which she'd added flowers and stars.
Most recently, last Tuesday, I was called out of the staff room before my first lesson by a couple of my older students, Haïda and Youmna. Usually not a good sign: paperwork problems, upcoming absences, that sort of thing. Brandishing the class roll-call book, Youmna told me she had a present for me. It turned out to be a small cooking pot with some homemade samoussas in, which she had made herself and which were still warm. I love it when the kids bring me breakfast! They disappeared in thirty seconds in the staff room, where lots of hands suddenly appeared from nowhere and dipped in, and I brought the cooking pot straight back to the student, whose eyes widened in disbelief at her obviously hungry teacher.
My kids have also started asking me questions about what will happen next year. Youmna, the same girl from the samoussa present, is a bit older than the others: she's 17 and very bright, just hasn't had a lot of luck with school in general as she's been moved about a lot due to her clandestine immigrant family. Some years, they enrolled her in a school, other years, they forgot, didn't have time, couldn't, weren't in the right country, were busy trying to get back to Mayotte on an illegal boat, that sort of thing. She's a lot more mature than the others. She wanted to know what I would remember from my four years in Mayotte. Probably the students, actually. I can't imagine students in Lille being anything like these kids.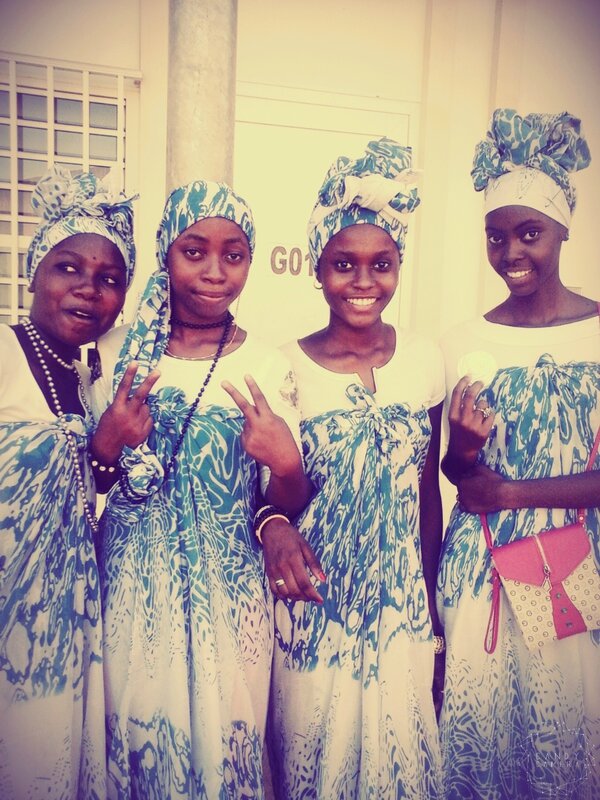 Chaharazadi, Nadhrati (nicknamed "Miss Hamburger", as we had a lesson on food and that was all she talked about), Moinécha and Roibouenti.