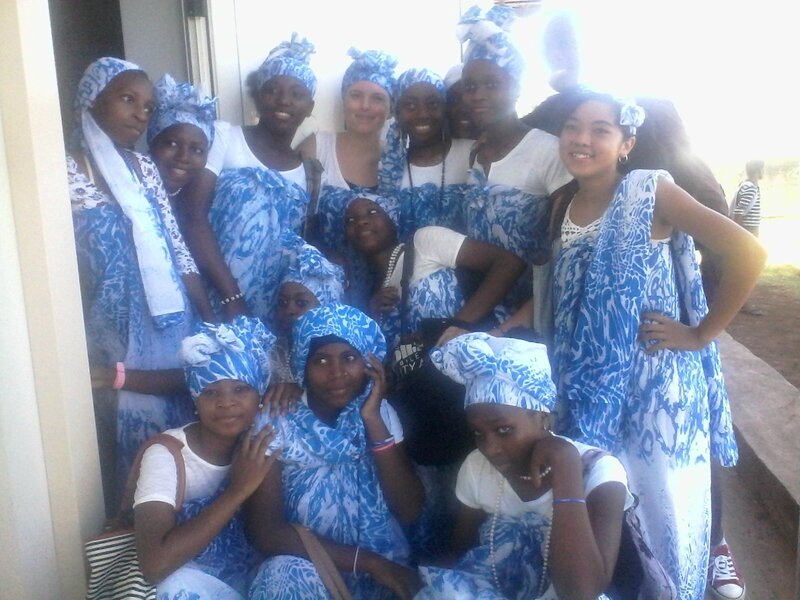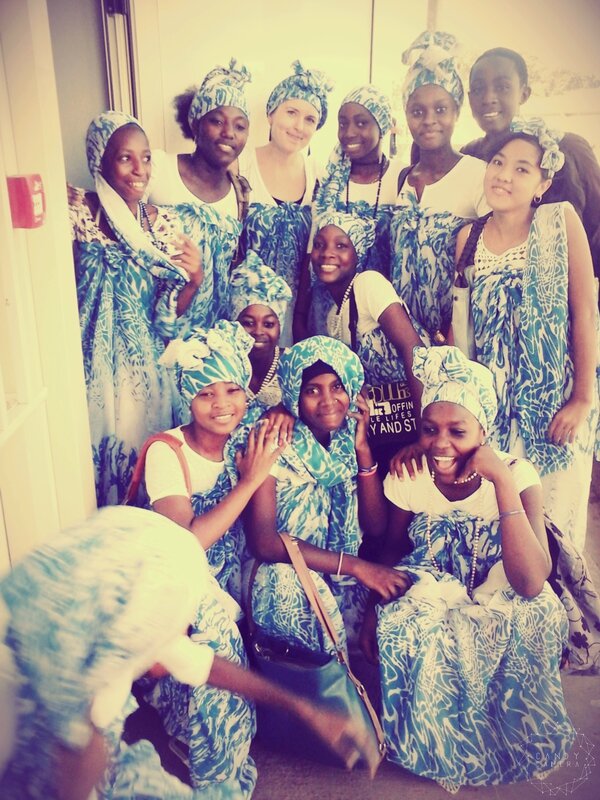 Clockwise from top left: Samianti, Nisma, me, Nadhrati, Moinécha, Moinécha's boyfriend Matthias (who ended up in the photo for some reason), Hoby, Chaharazadi, Djaha, Nabaouya, Laïla and Nassifanya. And the odd unrecognizable fuzzy student.
My kids have been lovely recently. Some of them, anyway.
It started off with Fatima, who gave me an envelope at the start of one lesson, saying that I absolutely must wait until I got home to open it. Inside were a couple of photos of the two of us, taken in the staff car park of all places, on a day last year when the kids dressed me up in a red African dress and headdress. Not the most flattering photos in the world, but good fun, and she had gone to the trouble of getting them printed in colour for me, which is not the easiest thing to do when you have zero resources at home.
Just before the May half-term holidays, my class of 13-year-olds had told me that they were planning to all wear the same salouva (wrap) on the first Friday after the break, and that they had also planned for me to wear the same salouva. On said Friday, already wearing theirs, they brought a wrap and headdress for me first thing in the morning. I wore it all day, being corrected regularly by various students saying "miss, that's not how you wear that" and giggling about how Miss apparently couldn't get dressed on her own. What a hopeless teacher. They spent most of the day taking photos of each other, and we had a photo shoot before the lesson as well. They brought their phones in the next day to give me the photos. During that lesson, I taught them all about school uniforms in England, which made them shout in disbelief at these strange English kids who dress the same as each other all the time and wear the same thing every day.
The week following the salouva experiment, another of my kids, Roukaya, brought in an envelope labelled "For my favourite English teacher. May God make you always be beautiful". Inside was a photo she'd taken of me in the salouva, to which she'd added flowers and stars.
Most recently, last Tuesday, I was called out of the staff room before my first lesson by a couple of my older students, Haïda and Youmna. Usually not a good sign: paperwork problems, upcoming absences, that sort of thing. Brandishing the class roll-call book, Youmna told me she had a present for me. It turned out to be a small cooking pot with some homemade samoussas in, which she had made herself and which were still warm. I love it when the kids bring me breakfast! They disappeared in thirty seconds in the staff room, where lots of hands suddenly appeared from nowhere and dipped in, and I brought the cooking pot straight back to the student, whose eyes widened in disbelief at her obviously hungry teacher.
My kids have also started asking me questions about what will happen next year. Youmna, the same girl from the samoussa present, is a bit older than the others: she's 17 and very bright, just hasn't had a lot of luck with school in general as she's been moved about a lot due to her clandestine immigrant family. Some years, they enrolled her in a school, other years, they forgot, didn't have time, couldn't, weren't in the right country, were busy trying to get back to Mayotte on an illegal boat, that sort of thing. She's a lot more mature than the others. She wanted to know what I would remember from my four years in Mayotte. Probably the students, actually. I can't imagine students in Lille being anything like these kids.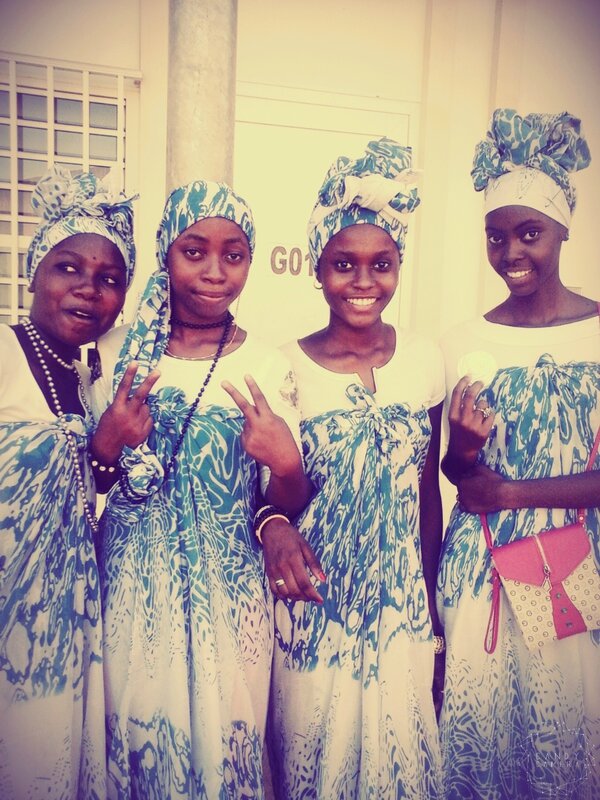 Chaharazadi, Nadhrati (nicknamed "Miss Hamburger", as we had a lesson on food and that was all she talked about), Moinécha and Roibouenti.