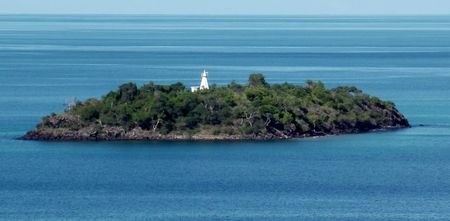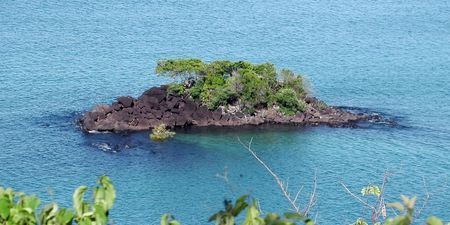 When P was here, he wanted to see if his scooter still worked. As I hadn't gone anywhere near it for the past few months, it didn't start. P pulled bits of it out and put it all back together, gave it some petrol and kept trying, and it started a couple of days later. So to make sure it kept working, he wanted to go on a fairly long trip with it. As we hadn't yet explored the north of Mayotte - too busy when he was here, and I'm not doing that on my own - we went for a ride, turning left instead of right into Mamoudzou.
The first things we saw were a few rather pretty islands just off the coast of Mayotte. We could see the pointy bits to the north of the main island, and the road ran alongside the lagoon for most of the trip except for when it turned into villages.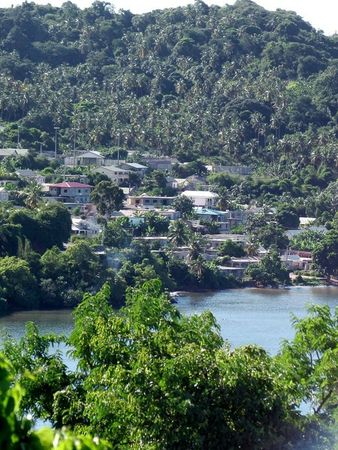 There are a lot of pretty villages up there. The north seems quite a bit cleaner than the capital city, and as it's the rainy season, there was greenery everywhere. When I first came to Mayotte, I saw slums and corrugated iron everywhere. I remember thinking how poor people here must be and that it didn't look very appealing. Now, I actually find these landscapes quite beautiful. There is still a lot of corrugated iron and unfinished concrete houses, but there are flashes of colour here and there that really make the countryside pop.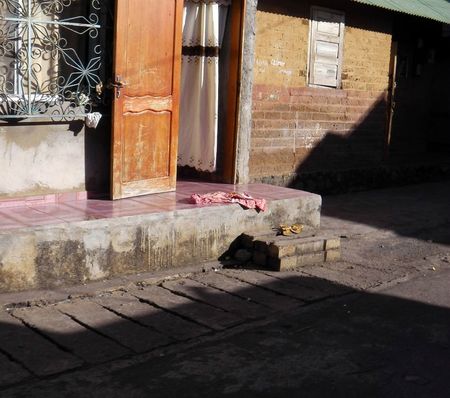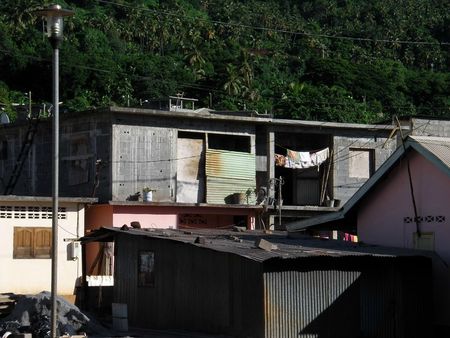 These are typical dwellings inside a few different villages. There are usually concrete houses in the village centre, often unfinished because the family doesn't have enough money to finish their house at the moment. They'll add bits as they go, depending on when they have a bit of money. Also, the roofs are often kept flat because when the eldest daughter grows up and gets married, she'll be given the roof to build her house on. This way, the family stays together. At the moment, there isn't any housing tax in Mayotte, so there aren't any worries about how expensive it's going to be: they just keep building out and up while they still have some building materials.
On the outskirts of the village, there are mostly shacks made out of corrugated iron. They used to be made out of wattle and daub, which is still used in some places, but most are more modern now. What I love about these shacks is the contrast between traditional and modern, rich and poor: the shack can hardly stand up straight and you can just tell it's sweltering in there, but there's still a satellite dish on the roof.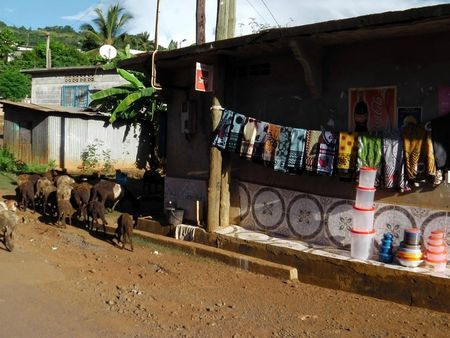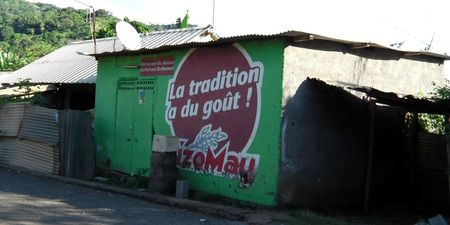 The villages are all peppered with shops, called doukas. These shops don't always look like shops. There is usually a small supermarket for every two or three villages, called Somaco or Sodicash, but every village has at least three doukas. They look like normal houses (that is, unfinished concrete or corrugated iron shacks) but just inside the door, you can glimpse printed material, stacks of sugar or bottles of something fizzy and colourful. Sometimes, there are even some assorted animals such as sheep or chickens. There are often adverts printed on the outside, and every douka seems to be sponsored either by SFR (French telephone operator) or Coca-Cola, because there is always one of these two names somewhere.
Inside the doukas, the sellers aren't usually very enthusiastic. Quite often, you go in and find nobody there, because they're in the back of the shop having something to eat or looking after their family. When they are there, they're often asleep and you have to wake them up if you want something. What you can also do is take what you want and leave the money on the counter, they'll pick it up when they come back in.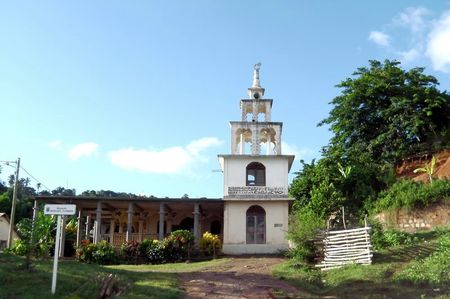 Also, in every village, there is a mosque. This one is the mosque in M'tsangamouji, one of the prettiest in the area. It's also one of the only mosques which actually sets itself apart from the village as a religious monument. Mostly, you can't tell the mosques from the houses until you look inside, and as a female, I'm not allowed to go too near. The muezzins sing first thing in the morning to wake everybody up for the first prayer of the day, then a further four times during the day. When prayer time comes, the men take their shoes off before entering the mosque and wash their feet, then they stand or kneel and pray together. You can always tell who has just come out of mosque, because they have their long white robes and hats on.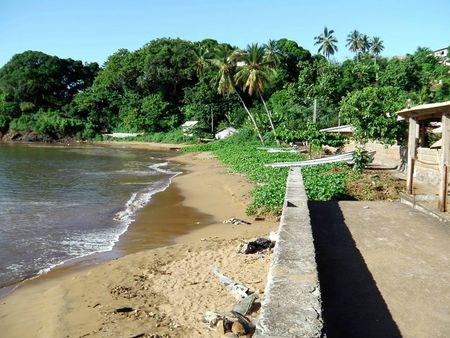 In one of the villages, M'tsamboro, there was a rather nice beach, so we stopped the scooter and took a few photos. P tried to talk to a lady on a bench by the sea, but she didn't speak French so that didn't get very far. It was high tide and the sun was going down slowly, which was nice for us because we're on the wrong side of the island for the sunset so we don't see it very often.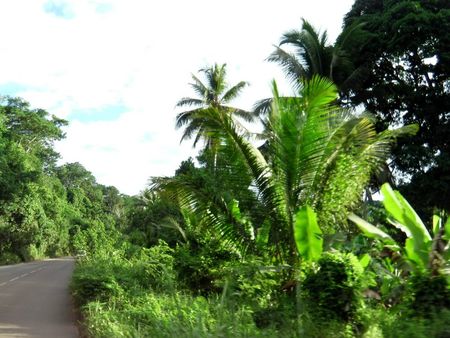 For quite a lot of the way back, there weren't any villages for fairly long stretches. What there was, though, was greenery. Lots of it. High grasses and banana trees which stop you seeing what's on the other end of the bends in the road. Tall trees, too, and giant bamboos which always look as though they're going to fall over, but seem to be held up by some invisible string.