One really nice thing about Mayotte is that the distances are short, so you don't need to travel for a long time to go anywhere. The beaches are very close to the towns. Our nearest beach can be reached on foot. It's not a terribly nice one, so we usually go to one called Sakouli, on the other side of Mamoudzou. Total distance: about 10km. Total time spent travelling: about half an hour depending on traffic.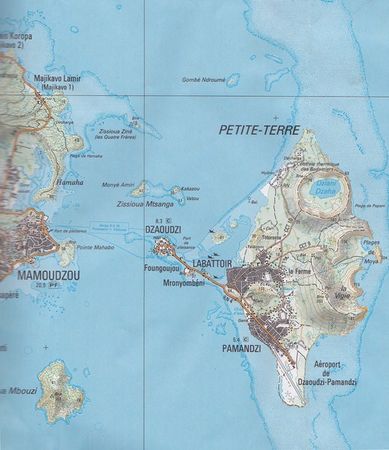 Something I both love and hate here, however, is the fact that there are two islands. To get from one to the other, you take the ferry. It feels like living in the lap of luxury - a rare phenomenon here - to take a large-as-life, fully-functional ferry just to go to the beach on the other island, to do some shopping or to go for a walk. However, if you're in a hurry, or trying to go to work, or trying to get to the airport on time, the ferry is a large-as-life, fully-functional time-waster.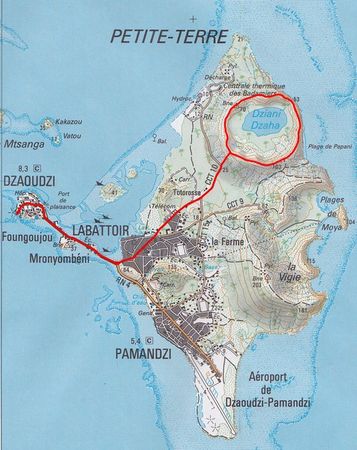 Last week, P and I decided to go for a walk on Petite-Terre (small land), the smaller island of the two. Roughly six kilometres square, Petite-Terre is much cleaner and better-presented than Grande-Terre (big land). It's also a lot flatter, at least until you reach its main touristic point of interest: Lake Dziani, or Dziani Dzaha in shimaoré. Which was, naturally, where we wanted to go. We left the car in Mamoudzou, in front of the market, crossed the lagoon as foot-passengers on the ferry and walked across the island, through the pretty town of Labattoir ("Slaughterhouse") and up the rather large and stony hill to the lake. Total distance there and back: about 10km, but it felt like three times that with the slopes and the heat.
It was worth it. The lake is known as "the green eye of Mayotte", and we could understand why. It's bright green, shining in the sun (because, of course, logical people that we are, we undertook this particular venture at 1 p.m. under the tropics) and surrounded by thick vegetation, namely coconut trees. Apparently, the lake is full of sulphur - it was formed by an exploding volcano, which made a crater which then filled with sulphuric water - and the surrounding trees full of mosquitoes. You can't actually get anywhere near the lake, though, as the trail leads you round the top of the crater.
Said trail is actually a grande randonnée, a GR, one of those red-and-white-splashed roads that run all over France and are generally fairly well-maintained. This one wasn't bad at all, actually, by Mayotte standards. The trail itself was bumpy, as the exploding volcano had thrown up several strata of rock at once, which had settled back down as best they could in the circumstances. A bit overgrown at times, but we actually welcomed that, as it meant shelter from the sun for a few minutes. Before Mum starts worrying, please tell her that we had applied suncream, drunk plenty of water and were wearing protective clothing, but that despite that, you still feel the heat even if it's not getting through to your skin.
What was wonderful about this lake was that just on the other side of the crater, there was the lagoon and its coral reef. As we were walking along the top of the crater, we had the lake on our left and the lagoon on our right at all times. Beautiful.
And of course, being Mayotte, we met a few beasties along the way... especially a small herd of water buffalo, ten or twelve in total, who were standing around munching in the middle of the trail, absolutely unconcerned about any passing humans. We didn't meet that many people, come to that: two couples of m'zungus, tourists or white residents, and four young men running around the lake.
On the other side of the lake to the way we came up, there was an EDM (Electricité De Mayotte) power station pumping out steam at full volume. There were also people living up there, as we saw lots of corrugated iron sheets blocking the view of the lake from the trail. The odd shoe or bike as well.
The same was to be seen when we came back down the volcano, people living on all sides with letterboxes and metal sheets everywhere. However, these metal sheets were slightly more amusing ones: BP barrels flattened out and tied to posts to keep people and water buffalos out.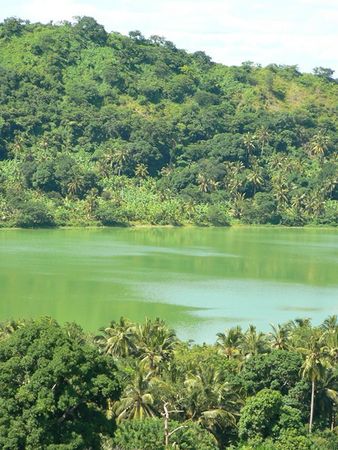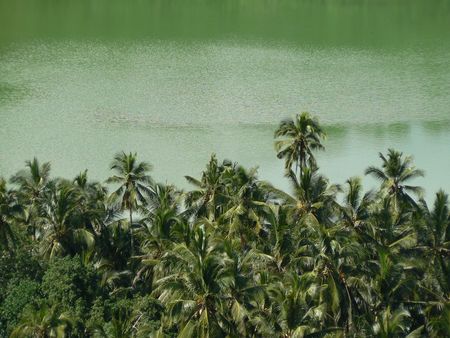 We walked back to the ferry, stopping for a cold drink on the way as we'd drunk our 1.5L bottles of water, water which was decidedly warm by then. Picked up the car on the other side, drove home, had a shower and weighed ourselves to see if there was any difference. We were both lighter by 1kg, just by losing water through sweat and dehydration... despite drinking a recommended daily amount of water in three hours.
Good fun, though. I'd do that walk again any time.