I got a call the other day from a girl I'd met at a friend's birthday party, asking me if I wanted to do something on Sunday. The search was on. She rang me back yesterday evening, having thought of going to the beach, renting a kayak, paddling round a pretty island and fish-watching on the coral reef afterwards. I picked her up this morning and we were off.
The kayak was good fun. We were given a paddle and a wonderfully sexy form-hugging life-jacket each, told to come back before 5 o'clock and off we went. We paddled up to and around the îlot Bandrélé, a small island just off the East coast of Mayotte, just outside the coral barrier, renowned for its beauty, its picnicking people and its attacks on said picnicking people. Decided to go up to one end, see how tired we became and either go all the way round or turn back, got half-way round before realizing it and toured the island completely. Lots of black volcanic rock, a few beautiful beaches and plenty of trees. The current was against us coming back, so it gave our arms a good workout!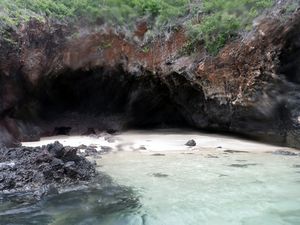 We then brought the kayak back, asked for fruit juice and chocolate cake and settled down to have something to eat before going back into the water. We half-clambered-backwards, half-swam over the rocky corals by very low tide to reach the coral barrier itself, where we spent two hours marveling at the fish swimming all over the place, following elusive fast-moving fish, finding two turtles to stalk, calling each other over to have a look at whatever it was and generally making fools of ourselves and taking silly photos.
My underwater camera worked a treat. It worried me a bit when we were kayaking round the island, as the screen and lens fogged up on the inside, but it was fine spending two hours underwater later on. I dented the screen a little when swimming too close over what turned out to be a soft and squishy-looking but very hard and aggressive piece of coral, so I'll try to find a protective screen for it before the next time.
We both had a wonderful day throughout. Slightly pricked and cut by the coral, which doesn't seem to like big clumping humans stomping on it with their clumsy flippers or holding onto it for balance underwater to avoid turning belly-up and getting water in their masks. Coral, it seems, doesn't care that much for other beings than itself, as it doesn't seem to like the fish much either. It does allow anemones to grow on it though, so the fish hide in those. We also found ourselves slightly sunburnt in strange places, such as feet, the insides of knees, hands and upper thigh, but nowhere else. That'll make a change from peeling shoulders.