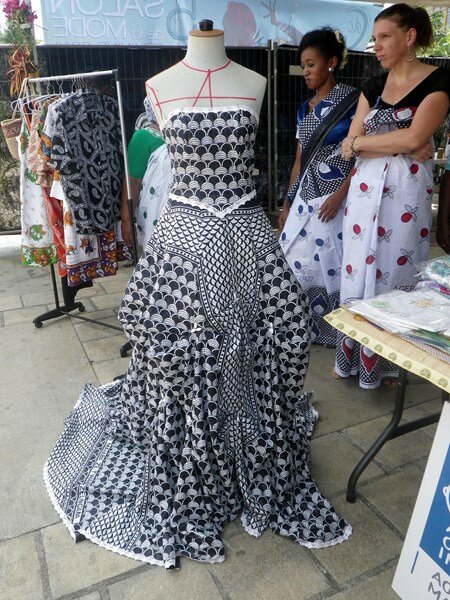 The Fashion Salon was last weekend. Not usually the type of event I go for, but there are few enough events of any sort in Mayotte for me to try and go to the ones there are.
On Saturday evening, there was the fashion show and competition. Every year, they organize a competition around one particular type of material. Two years ago, it was Mahorese chiromani, a type of material often worn by ladies here. Last year, it was jute. I don't know what it was this year, I had the flu and didn't really feel up to going out. There was also a catwalk showcasing clothes made by local dressmakers from the different islands in the area: Mayotte, Anjouan, the Comoros, Madagascar, Mauritius, Reunion, Rodrigues and sometimes the Seychelles.
On the Sunday, they held an all-day market for each tailor to show off his or her work, sell some clothes and take orders for others. They also had a few easily-picked-up wares such as handbags or earrings. I stopped off after my music rehearsal to have a quick look. I'm terrible at sewing and wouldn't know where to start making a piece of clothing, as you might remember from a rather botched attempt at a medieval t-shirt a few years ago (I remember Ed saying that I should be sewing with catgut), but it was interesting to see the clothes that these ladies had made using local material and prints. There was especially one black and white dress, pictured above, which was a wedding dress made out of chiromani.
They also had a group of dancers doing chigoma, a local dance usually done by men but which women sometimes do as well. Traditionally a wedding dance, it's the sort of dance you can do for several hours under a baking sun, as you only do very small movements with your feet. This particular chigoma was more acrobatic than usual, as the dancers bent over several times and three of them actually crouched and sprang up again several times. Right at the bottom, you can see the musicians using my favourite Mahorese instrument: a washing-machine drum.