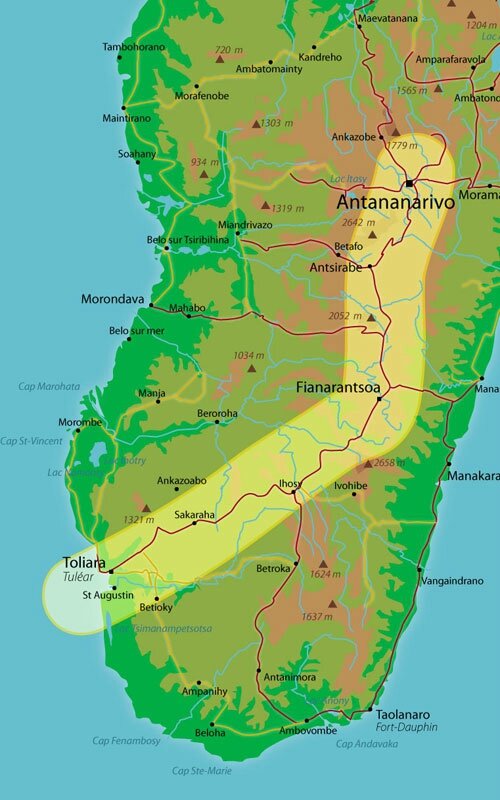 I enjoyed hiking in Reunion Island and liked the country very much, it has an interesting history and it's extremely beautiful. However, I don't think I'll be back, unless I can manage to get a transfer to live and work there.
Madagascar, though, was a different kettle of fish. I fell in love with the place when I went there for the first time in May this year, to the point that the day after I got back, I had already booked my next flight to Antananarivo. The first time had been a holiday organized around kite-surfing and the odd excursion in the area. I had been transferred from the airport by taxi, integrated into a group and generally looked after from start to finish. All meals and nights were provided for if I wanted them, except the couple of nights in the capital where I found my own hotel, and even then, the hotel organized a taxi to take me to and from the airport.
This time, the idea was to fly solo. The plan was to arrive in Antananarivo the first evening, sleep at the same hotel I went to last time (it was nice as well as fairly inexpensive for a capital city, the food was good, I already knew and trusted the taxi driver they used, so no reason to change) and pick up the all-terrain vehicle I had rented over the Internet last month.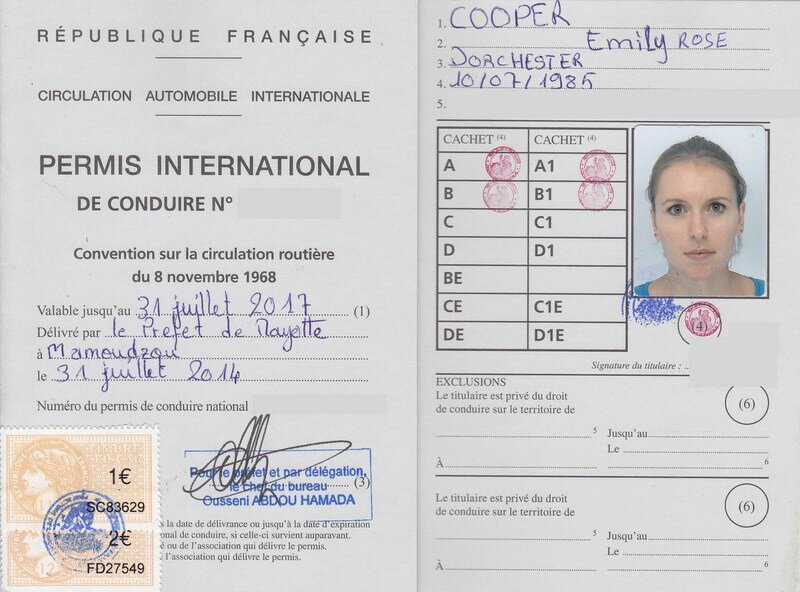 Before leaving, I had to talk the Préfecture into giving me an international driving licence - good fun in itself, as French paperwork always is. The governmental website provided me with a beautiful (and actually very simple) form to fill in and print out, which I did, and then carefully assembled the desired bits and pieces - the photos had to be taken at the airport in Reunion Island last month, as the only Photomaton machine in Mayotte was out of order - and took the lot to the Préfecture. Waited around for the usual amount of time, proudly presented my beautiful forms and was greeted with disdain: that form is useless, you need one like this (presenting me with a grotty lopsided print-out). Oh. I filled in the grotty lopsided print-out, then was informed that I would also need three euros' worth of timbres fiscaux. These must be obtained up the road (about 500m away). Of course, meanwhile, it was 11.30 a.m., and all the offices closed at 12. The timbres fiscaux lady didn't have any change, but we got ourselves sorted and I was asked to come back to the Préfecture on Monday or Tuesday to collect my licence. It was actually ready on the day. I couldn't believe it.
The particularity of living on a small island such as Mayotte is that everyone wants to get off the island as often as possible. So they spend a disproportionate amount of time talking about their past and future holidays. When I started talking about driving solo halfway down Madagascar, their reactions fell into two categories.
The first group - usually youngish people within five or so years of my own age, who have been to a few countries but haven't travelled that extensively - unanimously thought it was a wonderfully cool idea. They asked me where I would be sleeping on the way down, and exclaimed in delight when I admitted that I had no idea and would sort that out on the way down. They said it would be an amazing experience and that they would not have the balls to do it themselves.
The second group, composed mainly of people over forty having travelled quite a bit, was characterized by dropping jaws, round eyes and general expressions of surprise and horror. They said that I must be mad, that I couldn't possibly mean I was going on my own, that there must be at least a boyfriend or a group of friends hiding behind a bush somewhere, ready to spring out and shout "Surprise!". One said that he had been to Madagascar several times, rented cars or bikes several times and gone down that particular road several times, and that he wouldn't think of doing that trip without four or five other guys who were all experts and all knew the road off by heart. Certainly not going down the road for the first time, alone, with an unknown vehicle and with a fairly limited level of experience. There were the perils of the road, the possibility of accidents with nobody around to help, and there were bandits, too, who would love the arrival of a European girl on her own. They asked me to please take care of myself, and advised me not to do anything stupid, not to drive after dark and not to stray too far from the main road.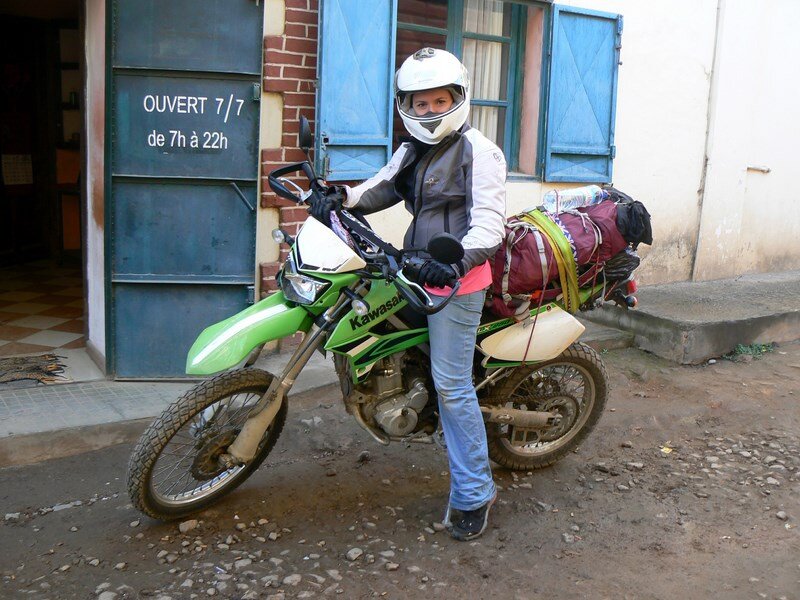 This was the all-terrain vehicle I rented. A Kawasaki 250 KLX, 130kg with a full tank, nice and manageable. My toes actually touched the ground on both sides, which is a luxury with this sort of motorbike. The other option was a Transalp, but my feet didn't reach the ground on that one. I strapped my backpack and water bottle on the back, to which I added a jerrycan of petrol at a later date, tied my camera at the front and off I went.
One of my musician friends has a Malagasy wife, and upon learning where I would be going, he immediately asked me if I could take a "small package" to his nephew in Antsirabe, 169km south of Antananarivo, a town I would be going through anyway. The "small package" (which had to be collected at the airport just before my friend and his family left for their holidays, a story in itself) turned out to be a rucksack about half-full of clothes, make-up and broken telephones. The nephew would repair the telephones and probably sell them. Meanwhile, the musician friend also gave me a list of people he knew all the way down the road I would be taking. My friend's nephew would put me up for the night, the others were people I could visit and chat to using the magic words: "I'm a friend of...".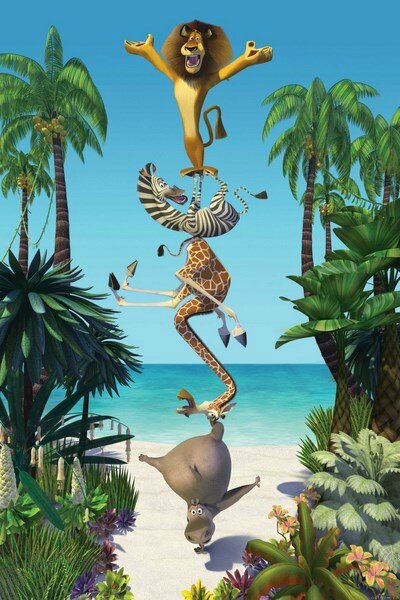 The trip got off to a rather slow start, however. I had brought my motorbike helmet with me, but was stopped from taking it into the cabin with me because "you could hit someone with it". Of course. Now why didn't I think of that? Unfortunately, these things are rather bulky, and it did not feel like going into the bag, which was already full. It ended up in the package for my friend's nephew, stuffed with jeans and telephones. The plane from Mayotte to Madagascar was late, and then decided to stop off in Moroni, the capital of the largest Comoros island. We arrived in Antananarivo at 11p.m., tired and cold, to discover that our luggage had been unloaded in Mayotte to lighten the plane. The next plane from Mayotte would be on Saturday, in two days time. Please fill in a form and come back then. By this time, it was past midnight and we were all absolutely fed up of the whole thing.
I was collected by a rather grumpy taxi driver who had been waiting since 8 p.m., went to the hotel and worried quietly. The next morning, eyes sticky from having slept with contact lenses - of course, this was the one time I had absolutely nothing interesting in my cabin bag - I went to the shop where I had rented the motorbike and explained the situation. Could I please pick the motorbike up on Sunday morning? The owner had a better idea: take the bike today, go to a pretty site 150km away for a look round, sleep there and come back the next day in time to pick up your luggage, then start the originally-planned trip down the RN (Route Nationale) 7. It would give me some practice with the bike on a nice easy road, and it would save me hanging around the capital city for two days doing nothing.
Borrowed a helmet, took the bike and off I went to the west. When I stopped to fill up the (rather small) petrol tank, I heard music and stopped to sing French songs with a couple of the service station employees, who found the whole thing rather amusing. My recorder was, of course, in my luggage, which was still sitting pretty in Mayotte.
The river winding through the village of Ampefy is called Lilly, after the daughter of the general who colonized the place. She died at 17 years of age and her body has never been found. The waterfall was beautiful, and the village kids were very interested in the strange white girl with the (very) noisy motorbike.
After a night at a small hotel in Ampefy, I headed off the beaten track to go and see the cold geysers. The water here is called "Ranovisy", or Vichy water, because it's naturally fizzy and so full of iron the earth turned red around it. To put it politely, let's say it's an acquired taste. Not keen at all, I'm afraid.
On Saturday morning, I phoned the airport for the umpteenth time and found out that the bags would be delivered in the early afternoon. Very pleased, I drove back from Ampefy in no particular hurry - the luggage could wait another couple of hours, I wasn't going anywhere else today - and collected my bag and the package for my friend's nephew. A chap gave my baggage form an extremely cursory look and let me go. I could have taken anybody's luggage for all he cared, he just wanted all the bags out of the way.
I was back at the hotel at 2 in the afternoon and wondering what to do with myself, so I went off to the closest natural reserve to the capital city, called "Lemur's Park". It was a reserve which had imported three diurnal and two nocturnal species of lemurs in order to protect them and, once protected, let them go again. I didn't quite catch the logic behind that but this was my first glimpse of Malagasy ring-tailed lemurs, which I had only ever seen on wildlife documentaries. I saw them again in two other parks on the way down. This was the first and only time I saw the black-and-white ruffed lemurs.
This is the local currency, called Ariary. The only banknotes I have ever seen with baobabs, travellers' palms, zebus, lemurs, seas, mountains and rice paddies on them rather than famous people. 3,000 Ariary are worth 1€, which in turn is worth about £0.80. In the capital city, you can get a hotel room with en-suite hot shower for 75,000 Ariary, about 25€ or £20. In the villages, you can get a basic hotel room with cold water and shared facilities for 25,000 Ariary, about 8€ or £6. A meal costs 6,000 Ariary, a fried salty doughnut or fried sweet banana in the street costs 100 Ariary (about 2p). When you get money out at a hole in the wall, you can get up to 400,000 Ariary (125€, £105) at a time. You can become a millionnaire pretty quickly. The smallest denomination is a 10 Ariary coin... about 0.2 pence. You can't buy anything for that. There are also 20 Ariary and 50 Ariary coins, but most people deal in notes alone. Prices in supermarkets and petrol stations are rounded up to the nearest 100 Ariary. You get so accustomed to thinking in large numbers that you don't translate back into Western price rates and find yourself complaining about a 75,000 Ariary entrance fee to a park... about £20, rather dear for Madagascar (which obtains its main revenue from tourists visiting parks) but perfectly reasonable for Europe.
However, once you've got used to that, there's another complication. Ariary is a fairly recent currency in Madagascar, and most people aren't used to it yet. They still think in Malagasy francs, which are five times the value. 500 Malagasy francs are worth 100 Ariary. In the capital, hotels and banks will talk to you directly in Ariary, but anywhere else, and especially in the street, people think in francs. For example, I bought a fried banana in the street in Fianarantsoa. I was asked for "500". Not thinking, I gave a 1,000 Ariary note as I had no smaller change on me. I was surprised to get 900 Ariary back. The lady had given me the price in francs. This happens all the time, and it is easy for the more on-the-ball sellers to con an unsuspecting tourist out of five times the value of whatever it is, especially as even five times the price is still going to be pretty cheap for your average Western visitor.
And with that, it was on the bike again and off I went early on Sunday morning.