The weather was pretty grotty this weekend, so I haven't been out much.
In fact, Mayotte was placed under "strong rain warning" on Thursday evening, because a depression was forming in the Mozambique channel, along the coast of Mozambique.
On Saturday morning, the depression turned into a tropical storm and was christened Hellen. Strong winds and rather a lot of rain came thundering down on the north-eastern side of the island, causing trees to topple over and stones to come tumbling down the hills. The island link ferries met with choppy seas and stopped trying after a few hours.
On Saturday afternoon, the island was placed under "cyclone warning". Outgoing planes stayed where they were and sent their passengers back home. Incoming planes turned around and went back to Reunion Island, avoiding Mayotte, the Comoros and Madascar completely. They'll try to come back on Monday. Privately-owned boats - there are a lot of those here - turned over, drifted and crashed into the walls around the mooring area. Houses made of corrugated iron fell apart, and sheets of corrugated iron learned to fly. A hundred or so families in the north of Mayotte lost their houses and everything that was in them. Houses situated near beaches and gutters became irreparably flooded. Coconuts fell off the trees and slammed into anything that happened to be underneath. A kwassa (shanty-boat carrying illegal immigrants from the Comoros islands) turned over, its passengers are presumed dead.
The worst of the storm was forecast for midnight on Saturday, with waves from 3 to 6 metres high. In fact, they went up to 9 metres, with an average of 4.5m. There is only one place in Mayotte where there is the equipment to measure wind, and that's in Dzaoudzi on the small island, which happened to be the furthest point from the storm. They measured winds at 90km/h, and estimated 118-165km/h for the south of Mayotte. As far as rainfall went, the north of Mayotte measured 232.8mm in 24 hours, the centre 181mm. The pressure at the centre of the storm was estimated at 996hPa on Saturday.
As long as it stayed along the coast of Mozambique, Hellen couldn't pick up enough strength to do very much damage. Then it moved out over the 30°C Indian Ocean surrounding the Comoros islands and Mayotte, sucked up some nice warm water and, reinforced by a monsoon thalweg, turned into a tropical cyclone at 3 a.m. on Sunday morning. It was quite a small one, but relatively powerful according to Météo France.
Tropical cyclone Hellen is now on her way out of the Comoros. On Saturday, it was 170 kilometres away from Mayotte and travelling south at a rate of 14km/h. At 11.30 on Sunday morning, 200kms away, it turned from your average tropical cyclone into an Intense one, now moving south-south-east with gusts up to 260km/h. The south of Mayotte was still being battered, the rest of the island was still under "strong wind and rain" orange alert. At 4 p.m. on Sunday, with a centre pressure of 935hPa, it was measured as having slowed down to 7km/h and also as having intensified. However, as it was travelling away from Mayotte, our orange alert turned back into a cyclone vigilance warning. Hellen is currently travelling towards the north-east of Madagascar.
The latest updates say that it has blown itself into a Very Intense Tropical Cyclone, possibly reaching its intensity peak. Winds measured over one minute are 135 knots over the sea with gusts of over 300km/h. The eye of the cyclone has contracted. It's still pretty warm in there, but satellites are having trouble measuring it precisely because of its small size. At 10 p.m. on Sunday, the cyclone was situated 15.0 South, 45.0 East, and was travelling south-south-east at a rate of 6km/h. The estimated pressure in its centre was 925hPa. Inhabitants in the north-east of Madagascar have been warned to prepare for the worst.
It's apparently the strongest tropical cyclone to have evolved in the Mozambique channel for over 40 years. It's the fifth cyclone to hit the southern hemisphere this season, starting with Bejisa in Reunion Island over the new year, and it's the fourth in the south of the Indian Ocean after Amara, Bruce and Gillian.
Of course, Mayotte being under French administration, Sunday's municipal elections went ahead as normal... people being advised to leave their children under supervision of an adult while going to vote. Despite the pouring rain, they actually managed to have voters than in the last elections.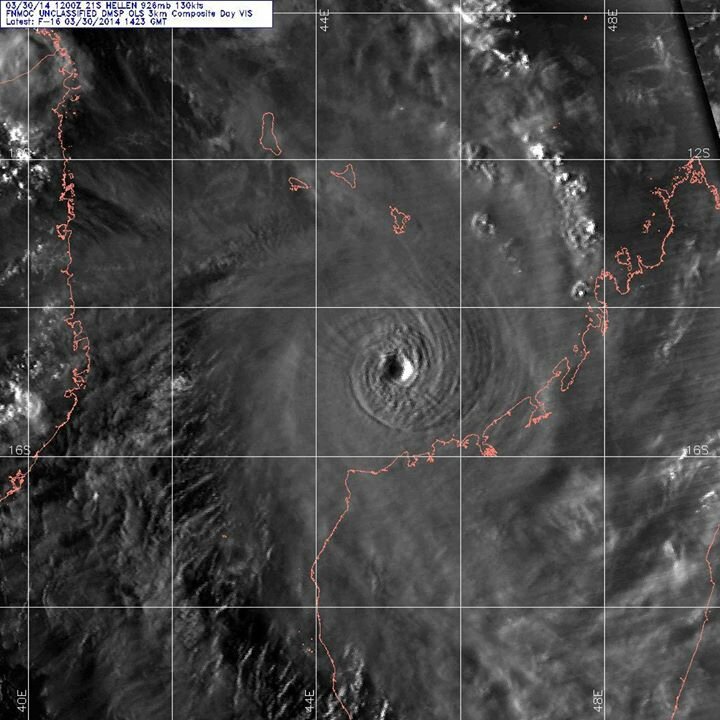 Evolution of the storm from Saturday to Sunday.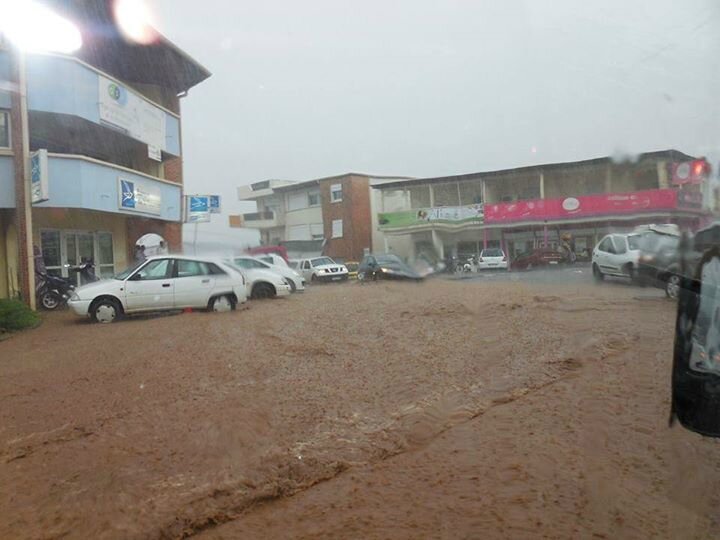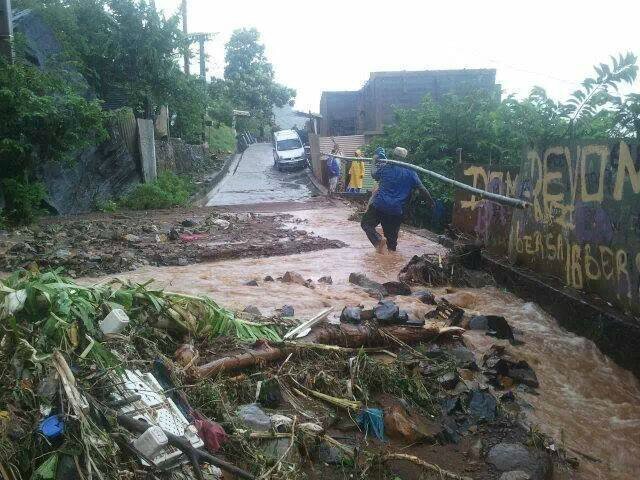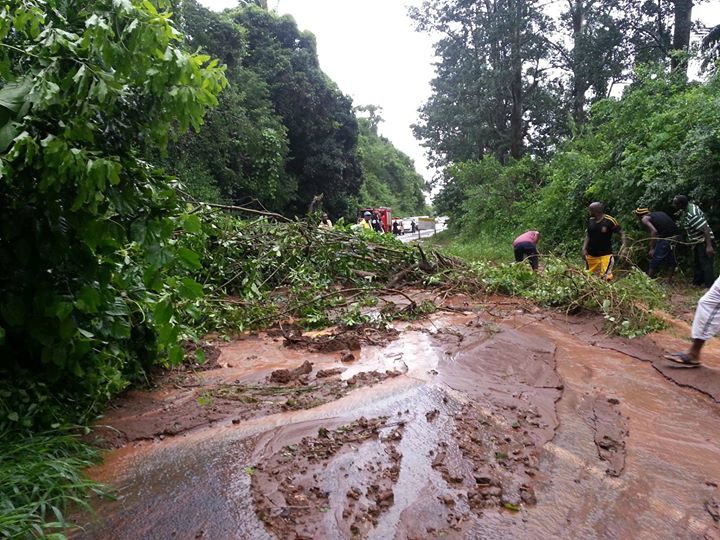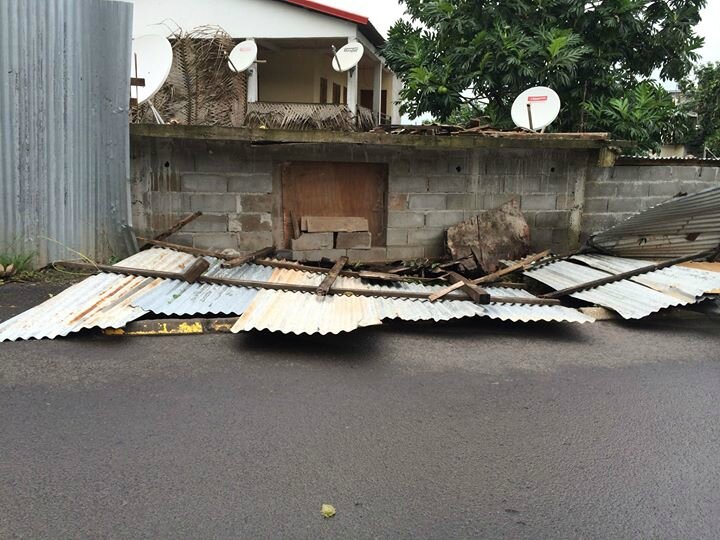 Photos of the result.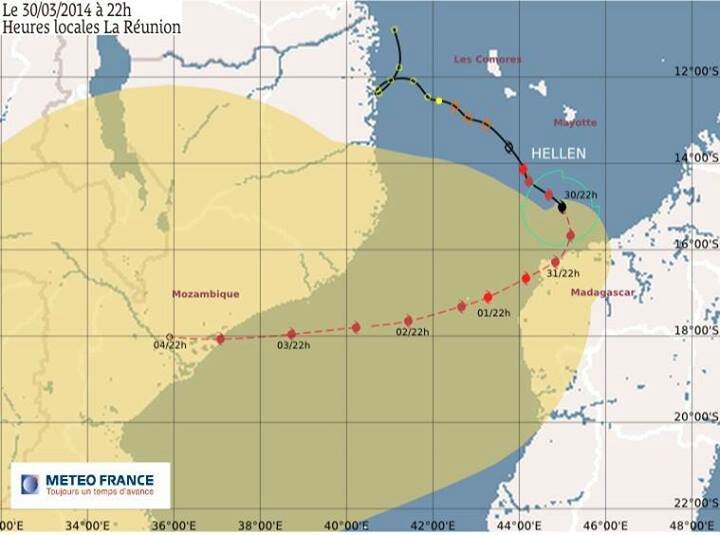 What happens next.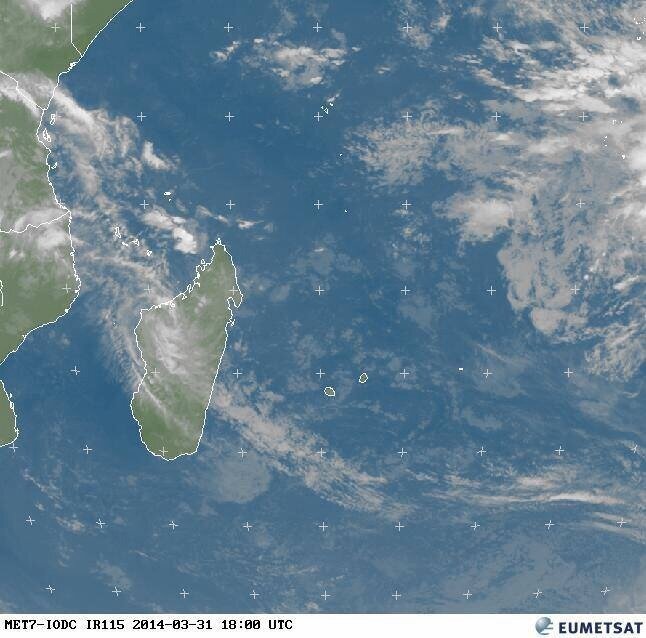 Update from Monday evening: Hellen is currently fizzling herself out over the coast of Madagascar.
You can click on the photos to make them larger.