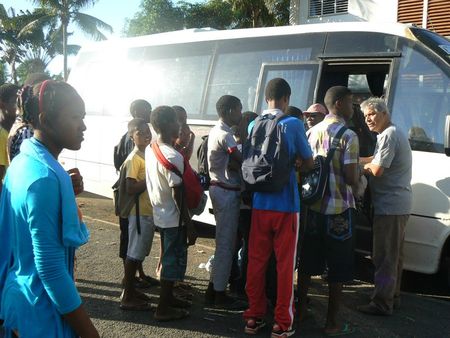 Last Thursday, I was called in to replace a sick colleague on a school trip. The idea was to take a class of 14-year-olds to visit the remains of a sugar-cane factory, a copra dryer and a museum about ylang-ylang flowers and vanilla. Two teachers, twenty-nine students, one bus. Should be interesting.
The class was - and still is, for that matter - my worst class, which didn't help. They were the other teacher's worst class too. Bright kids, but just so noisy... the sort of class where you can deliver a perfect lesson without actually hearing the sound of your own voice. That was between four walls. We hoped that by taking them outside, we might get a better result... and we did. The class changed completely. They were lovely, worked hard and asked mostly intelligent questions. I think I like school trips after all.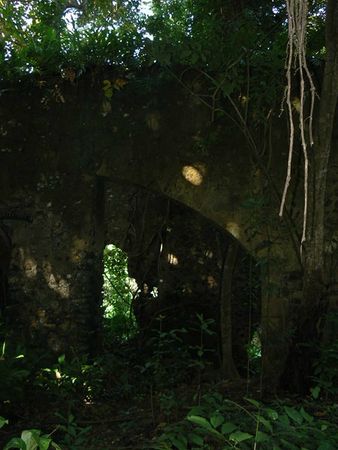 This trip is known as the "Rallye du Patrimoine", it's a local competition between kids of the same age group. The organizers select 15 or so classes, who are then taken round three local sites with a guide. They are all given a questionnaire to fill in by listening to the guide, and the class with the best total result wins... wait for it... a photo with the local high education authority, the Vice-Rector. Big deal. But still, it's worth trying for, and we'll find some sort of prize for them. What I've done so far is print the group photo for them, which most were very proud of. It actually kept them fairly quiet for half a lesson!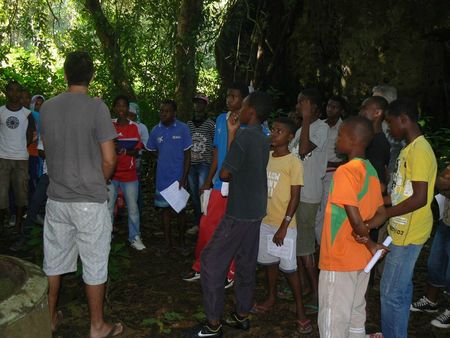 The first stop was the sugar-cane factory in Soulou. What was left of it, at any rate. The first seven sugar-cane factories were built in 1845. In 1864, there were 38 of them, with plantations covering 12,309 hectares (roughly a third of Mayotte). Most of the owners came from France or Reunion Island. Slavery had been abolished in Mayotte by then, so they brought in workers from Madagascar, the Comoros islands and Mozambique, paid them next to nothing and put them to work clearing, planting and harvesting. By 1890, the sugar-cane plantations yielded 5000 tonnes a year.
That was a bit too good to last, though. The sophisticated machines needed maintaining under the tropical climate, and mechanics took 6 months to come to Mayotte. On top of that, France had discovered beet sugar in the meantime and didn't need expensive cane sugar any more. The last working sugar factory in Mayotte, situated in Dzoumogné, closed in 1955.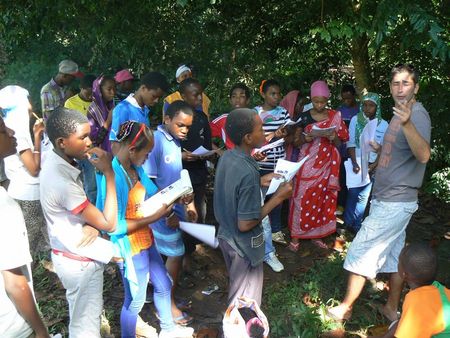 The photo below is the cauldron, the heart of the factory. It burns wood, makes steam and reduces the juice from the sugar-canes to eliminate some of the water. The idea is, eventually, to get rid of the water in the sugar-cane without turning the sugar into caramel.

The next stop was the copra oven. Copra is coconut flesh, which is dried and exported to make coconut oil. This oil is used to make margarine, soap and some cosmetics. The copra oven was in use until the 1980s... now, it's looking rather sorry for itself.
Our third and final stop was the Ecomuseum of Ylang and Vanilla in Jimawéni, near Sada. I'd already been there once with Philippe and the music group to play at the opening of a photo exhibition, so it was quite nice to go again as it's a lovely place. There were signs explaining how vanilla and ylang-ylang were and still are cultivated in Mayotte, and the guide had set up a short film to go over the ylang-ylang distillation again with the kids. I hope they learnt something. I did, especially about the vanilla, which I'd never seen growing before.
A couple of group photos to end the day, and we undertook the hour's bus drive back to the school. Most of the kids had never travelled that far before, some hadn't been in a bus before and the overwhelming majority weren't used to riding in a vehicle for any given distance, so quite a few were sick on the way there or back. I now know to bring not only biscuits and water, but also sick bags, tissues, travel-sickness pills and various other essential items!