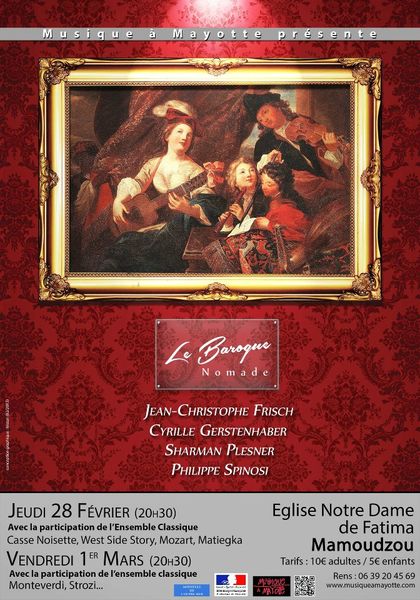 That was fun. I hadn't played in a "real" concert for ages. The sort of concert where you're in a church, everybody on stage is dressed in black and the atmosphere is very serious. You're not supposed to laugh, cough, say anything or even look anywhere except at your sheet music or your fellow musicians. Performers and audience all hastily clear their throats and take photos between movements or pieces. I love it.
The main music-related events I've played at since I left the Conservatoire have all been folk shows and barn dances, where the atmosphere isn't quite the same. The performers get up and jump down from the stage whenever they feel like it, they can talk and are even supposed to tell jokes and explain the dances, they'll happily have something to eat or drink while on stage, they're all dressed however they feel like it and often have bare feet and don't look as though they've seen a hairbrush any time recently. Good fun too, just not at all the same thing.
A group of classical musicians had just arrived in Mayotte, where they would be staying for one week. Their name was "The Nomad Baroque Orchestra". Four of them: one violinist, one flautist (also conductor), one singer and one guitarist. They explained that they travelled all over the world, playing mostly with amateur musicians and orchestras, helping where they could and performing with the local orchestras. They came to the music school where I take violin lessons, and the first concert they did was with the classical orchestra from the music school, in the Catholic church of Mamoudzou, named Notre Dame de Fatima. The first church I've ever seen with ceiling fans. We played a couple of pieces from the Nutcracker and Swan Lake, as well as their own performance that evening. The second evening, they played with a small local choir. I got to go on stage as well, as the conductor had sent me a piece to practise a few weeks before, so we played that. He also brought me back on stage right at the end for the encore, where he had me sight-reading on stage. Never again.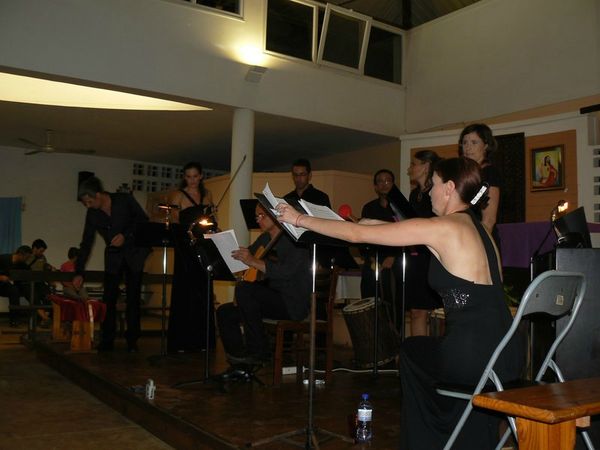 Defintely interesting and a good time all in all, it's nice being on stage again, playing something that sounds nice, playing properly and seeing friendly faces in the audience. Below is the piece we played together: Uccellini's Aria Sopra la Bergamasca. Click on the link below, it should take you to a new window and the music should start automatically.
Uccellini___Aria_Sopra_la_Bergamasca