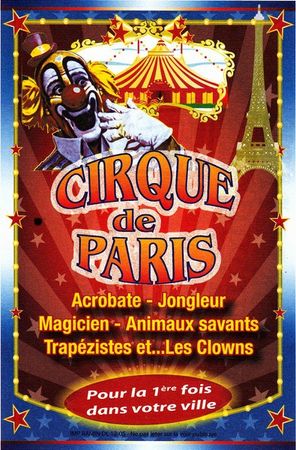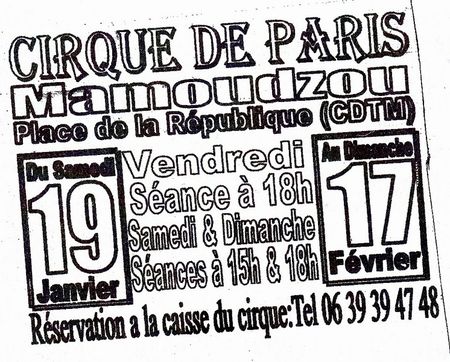 The Cirque de Paris has been in Mamoudzou for the last few weeks, and is staying until the 17th of February. The circus tent is planted in the main square of the capital city, with a large Coca-Cola tent in front and the market to the left. Behind is the Tourism Committee building, pink and lavishly decorated with various graffiti.
The circus tent, performers and props arrived by container or plane. When the circus opened for its first showing, the organisers were rather disappointed. Kids tried to get in without paying, as they probably would anywhere. But the circus had an interval, during which they sold little flags with "Circus" written all over them. When the first batch of kids came out waving their flags, kids who hadn't been able to get in without paying were waiting for them, pounced on them and stole all the flags. The organizers were disgusted and wondered whether to stay in Mayotte at all. They gave it a go and are still there.
I wondered whether the circus would be able to function properly for the whole month they were here, offering one show a day and two on week-ends. The local Mahorese people don't have a lot of money to go to the circus, and there aren't that many expats, only about fifteen thousand of us. Most people - if they do go - will probably only go once. Entrance was 5€ to 8€, depending on whether you sat in one of the chairs in front or on the benches at the back. The chairs were more comfortable, but you could get sprayed with water or anything else during the show. The benches were uncomfortable but sheltered from anything that could happen.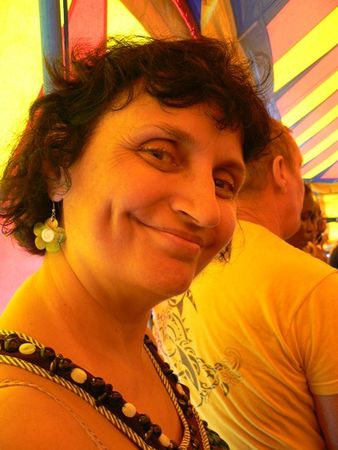 I went with my neighbour Mireille, the one whose flat I'm moving into next month. We sat on the benches, didn't really fancy being squirted. There was a good mix of people in the audience, both expat and local, kids and adults. A good few familiar faces as well, which goes to show how small a place Mayotte really is.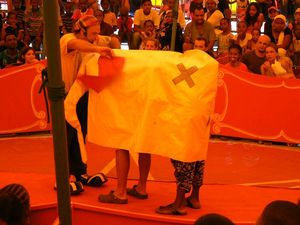 Several fairly recognizable acts ensued. A girl with a sequinned hat and short shorts who disappeared into a box, a man and an eight-year-old boy who balanced upside down on rather unstable chairs and respectively threw and got thrown into the air, the same eight-year-old boy who became a clown named "100 Kilos" and ran round the stage squirting water and telling jokes, a second clown with a colourful hat and long bulky shoes who fooled around and made everybody laugh, a lady who collected doves from a stand and made them walk up ladders before changing clothes and going up to the roof doing acrobatics in a hoop, two young girls who hula-hooped their way around the stage. My neighbour's and my favourite was the elephant. The two clowns were joking with each other about how they would need a couple of volunteers to help them get the animal out, then they fetched said volunteers and had them bend over before throwing an elephant disguise over the two of them. They then proceeded to play pranks on the elephant, criticizing its assorted footwear and its alternatively hairy and smooth legs, giving it a "tail" made out of a feather duster and dragging it around the stage.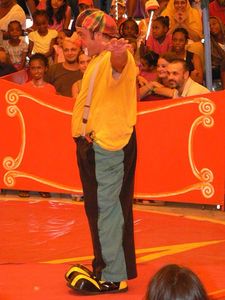 A good show altogether, a nice family circus. The two male leads looked very much like each other, very possibly two brothers, each with wife and either one son or two daughters, all of whom had an act at some point in the circus show. There isn't a lot of entertainment in Mayotte, so when there is something, I try to go and see it... not usually expecting very much, but the circus was definitely interesting. I very vaguely remember going to a circus in England at a rather young age, and this time round, I actually realized how kid-orientated the shows are. Nothing wrong with that, I just didn't really expect it.