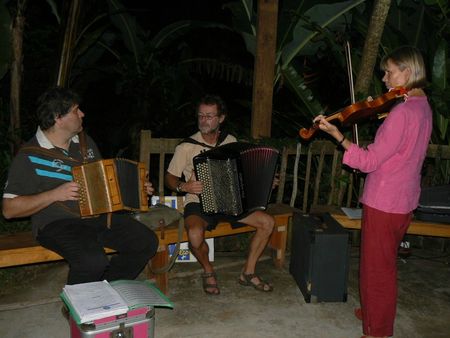 The day P left, we had a concert planned in the evening at the Gîte du Mont Combani. We were all rather shattered, as we'd all had fairly long days, but we got together in the late afternoon and went up to the gîte together. It's quite a trek, even in the car, because the track is particularly bumpy and muddy. Francis, Laurence and I went together in his car, Franck followed on his motorbike until the chain came off in the bumps, then we made him go ahead to supervise him for a bit.
We arrived about six-ish, said hello, warmed up, and I have now been nominated Artistic Director for the group, which basically means I'm supposed to work out arrangements and harmonies for them and find different ways of playing things so that we're not all playing the same thing, all at the same time and all at full volume.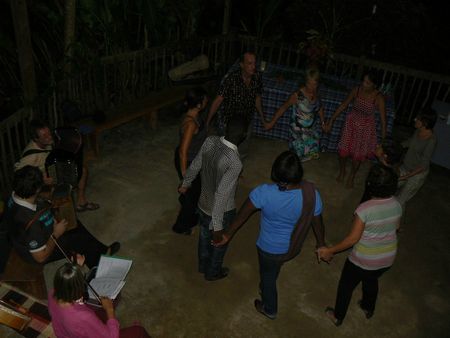 The dancers arrived slowly, some we knew and had corrupted with the promise of a cheap meal if they came, some we'd never seen before, which was nice. Our dance master showed them the dances as we went along, but we'll have to ask him to stop trying to teach the dances as he gets very bossy when people don't dance exactly the way they're supposed to.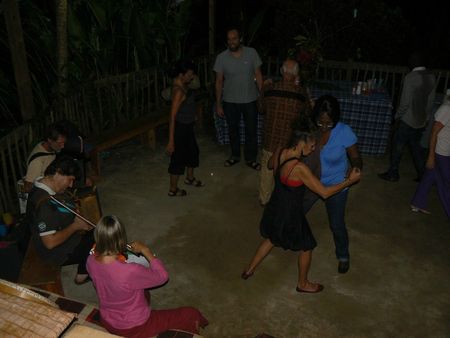 Food was a buffet, and we were supposed to play while people ate, those who wanted to could dance. Unfortunately for us, the food went down rather fast, so we kept on stopping to pick up something to eat while there was still something going. Not a terribly interesting meal, chicken legs and sausages on sticks, but nice chocolate cakes and tea made out of combava leaves (sort of lime), cinnamon and citronnella. The setting is beautiful, however, and I'd like to come back in the daytime to take a few photos.