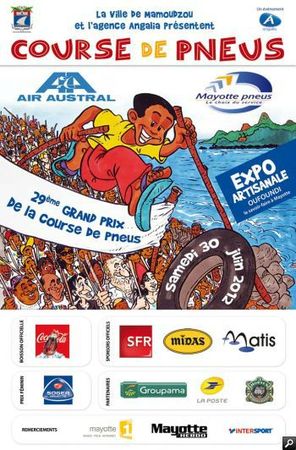 On Saturday, there was the Grand Tyre Race in Mamoudzou. Hundreds of people had come to race and to watch, as this is THE big event of the year in Mayotte. The idea is to race for 2.2km through the capital city, driving a used tyre in front of oneself by means of two sticks. In order to propel the tyre forward, the ends of the sticks are fitted inside the tyre - sometimes just lodged between the walls of the tyre, sometimes stuck in a yoghurt pot to keep them together - and the whole inside of the tyre is greased with soap to make it roll more smoothly.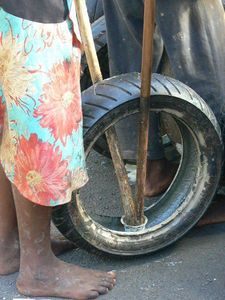 There were roughly 900 children and 400 teenagers or adults racing. The first race was the girls' : a hundred or so little girls in pink t-shirts pounding through Mamoudzou with their tyres. There were a few incidents starting off, as they all wanted to start together and got slightly tangled up, fell over, some ended up crying and they all ended up covered in oily soap.
The most exciting was the boys' race, though. There were roughly 900 boys under 13 racing together with white t-shirts. It was impressive in that you could stand there for ages, they just kept coming. Some had painted their faces, others their t-shirts, and every single one of them could have done with a wash after that race. They came running past, screaming, at different paces. The older ones were quick and good at controlling their tyres with the sticks. Some of the younger ones weren't so good at it yet: the tyres somehow escaped them whenever they turned a corner, and once the tyre was flat on its side, they either couldn't lift it back up or couldn't balance it once it was up. Some of them got a little help from other family members who were running alongside to encourage them, others gathered around a fallen tyre and stared at it, completely stumped as to what to do next.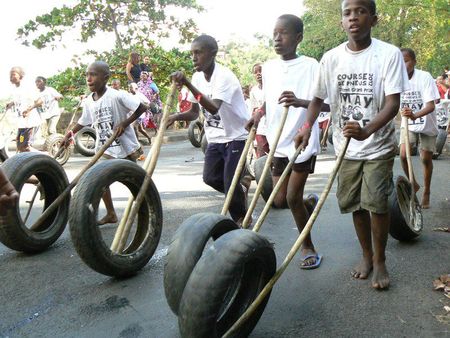 Then came the over-13s races. These weren't conducted in quite such a disorderly manner. In order to take part in the race, the teenagers and adults had to make teams of five and enter as a team. They also had to cross the finishing line as a team. There were 80 teams in total, pulled out of a hat among 300 teams who had asked to take part, of varying ages, sexes, skin colours and state of physical fitness, shall we say : everything from a group of fast-moving 15-year-old boys to a team of mamas with their children running either side. Some had made the effort to distinguish themselves as a team, either by clothes or face-paint, others hadn't bothered and wore the same white t-shirt everybody had apparently been given at the start. A few had scooter tyres, most had car tyres, some had brought tyres bigger than the people who would be pushing them.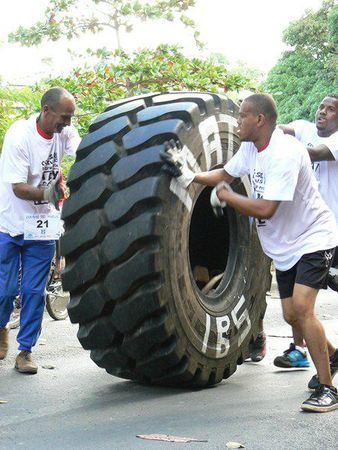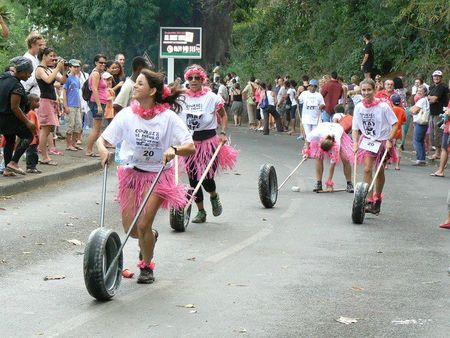 Tyre-racing is a national sport in Mayotte, and is even an option for the Baccalauréat. This was its 29th year of existence. Traditionally, the tyre-race takes place on the first Saturday in July. This year, it was brought forward by one week because the organizers need as many sports teachers as possible to manage the race, and they feared that said teachers may have gone on holiday or finished their contracts and gone back to their home country by the 7th July.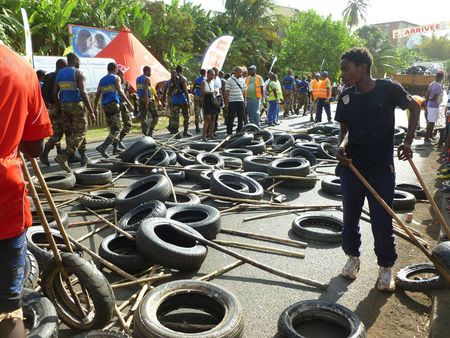 At its beginnings, the Grand Tyre-Race was brought into existence by a sports teacher in 1983, who realized that Mahorese kids seemed to have a talent for playing with tyres, as they had little else to play with. So he and a couple of colleagues organized the very first tyre-race, giving tyres to those who didn't have any, finding a small prize for everyone, getting 300 kids together in badly-lit streets, giving them numbers to sort the prizes out. The number system didn't work out, as the various race supervisors took the kids' numbers from them as they arrived and got them mixed up, or the kids didn't answer to the right numbers, or all answered at once for any one number. It was decided that the prizes would be given to the kids as soon as they crossed the finishing line. These prizes were and still are donated by the sponsors, and can include anything from pens to trainers to a sandwich.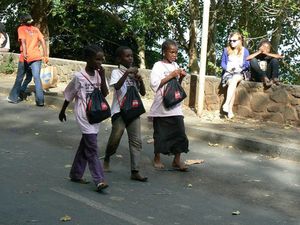 One race turned into two, as they separated under-13s and 13+. Which turned into three a few years later with the addition of the girls' race. However, the race had to take place in the streets of Mamoudzou, the capital. The kids knew all the shortcuts, so the organizers stationed supervisors at every possible point and turning to keep the kids on the same track. Some children would hide between two cars and join the race half-way through or near the end, just to get the prize. The organizers decided to put a mark on the kids at the start of the race, and those without the mark wouldn't get a prize. The small kids got an "O" on their foreheads, the big ones got an "X". However, writing symbols on a few hundred foreheads took time, and some kids who had already been "marked" slipped off and went to hide near the finishing line, ready to collect their prize. The organizers then created a new job: motorized anti-cheaters. These new people would patrol the race on scooters with brightly-coloured aerosols, and spray any child they found cheating... which apparently still makes for some memorable chases!
P videoed a bit of the boys' race, it's worth a look.