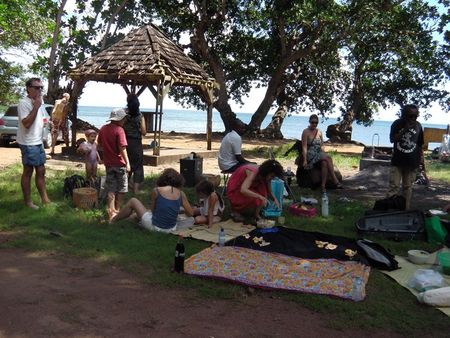 We went to a barbecue on the beach the other day. These are extremely common here, there are always groups of people cooking things on any beach you go to. Traditional barbecue food here is chicken wings and green bananas, which are either cooked in the fire or fried, and eaten as a vegetable. They don't taste of much, they're a bit like boiled potatoes.
There were about fifteen of us, and we had all brought salad stuff or something to drink. The organizers - the people on the photo, one of whom's birthday it was - had brought five kilos of mabawas - chicken wings - and two bunches of green bananas, which they started cooking fairly early on, as unpeeled bananas can apparently take ages to cook. One had even brought a pan, which he filled with oil to fry the bananas he'd peeled.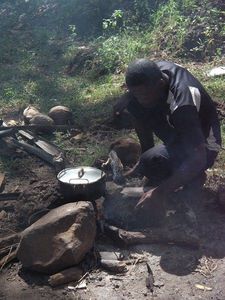 We played music, some of them danced a little, then headed for home because I had an English lesson later that day. On the way home, we saw one of the sort of things that happens all the time here: somebody carrying something three times bigger than themselves, sometimes on foot, sometimes on a scooter. This one was relatively priceless.