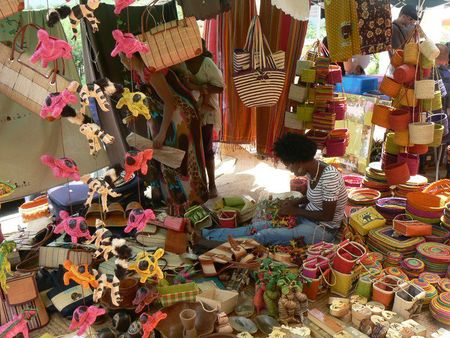 There was a Christmas market today in front of the M'biwi Café, just down the road from us. I thought a Christmas market by 32°C sounded interesting, so I went along after work to see what sort of things were up for sale.
The first thing that struck me was the bright and colourful aspect of it all. The first stand I saw was a profusion of bright reds and pinks and greens in raffia baskets and lemur mobiles, baobab trees and so on. A girl was sitting in the middle, and another was bouncing a baby on her hip in the background.
What I hadn't taken into account was that the village we live in is known as "M'zungu-land", as most of its inhabitants are white. It's all blocks of white-painted flats, pretty much identical inside, with various views over the lagoon. The Christmas market was deliberately being held there, as that was where all the money was.
I saw raffia souvenirs, Madagascar-made wooden boxes with patterns engraved into the tops (a bit like the Indian boxes Bharati brought home for us about ten years ago), colourful tie-and-dye clothes, jewellery of all sorts, mostly made out of seeds, photos, posters, stuffed toys in the shape of tortoises and fish, metal sculptures, curtains, embroidered linen, plants, touristy objects which could be just about anything with "Mayotte" written on it somewhere, glasses and plates, trays and food.
Plenty of exotic fruit juice – mango, evi, corrossol, pok-pok (physalis), tamarind – and syrup – baobab, papaya, vanilla and cinnamon syrups – which are diluted into water/milk/rum/punch/whatever or mixed into desserts. Baobab syrup is made from the fruit of the baobab tree, which is left to dry on the tree before being picked, it's red and full of iron, supposed to be very good for you. It's good for tummy trouble, and is often sold to tourists in Mayotte who aren't used to the food here. It tastes sweet, with a metallic aftertaste. There were also pineapples of all sizes (juice pineapples and Victoria pineapples), papaya fruit (sold green, as that's often how it's eaten here, but it ripens quickly) and the odd box of jackfruit pieces (no white spirit necessary, with a bit of luck).
There were also a few salespeople with Christmas hats, sweating profusely in the heat! Valiantly keeping the hats on all day, as "it's Christmas, madam"!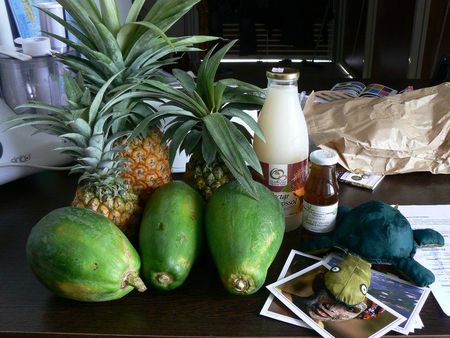 What I bought: pineapples and papayas, corrossol juice, vanilla syrup, a stuffed tortoise and postcards.