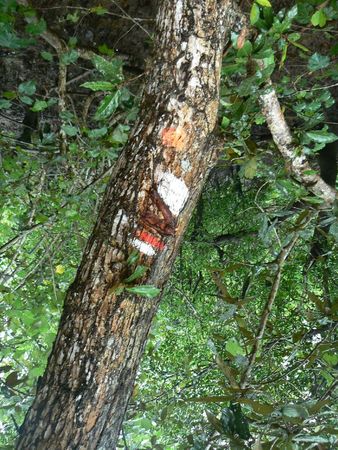 Last week, I went on a grande randonnée, a walk signalled by white and red flashes on the trees, with the association my music group belongs to, the Bretons of Mayotte. I hadn't really had the occasion to explore the island properly, mainly because of the recent strikes (more about those in a later message), so I was pleased to be able to go walking with a group. We set off from the south of the island, near Chirongui, and walked 3 or 4 kilometres through the mangrove by low tide.
Mangrove is quite interesting, somehow mysterious. Half the time, you have no idea where you're actually going, as there are so many roots and puddles that you have to watch your step all the time. At least, I do. Then again, it all seems to be much of a muchness, the same thing wherever you look, just roots, puddles, puddles and roots. Long, thin, high roots, which were sometimes 80cm or 1m high, but only about 1.5cm thick, and snaking everywhere from the tree. As it's all trees in there, it's all roots, and they criss-cross wildly, tripping you up whenever possible.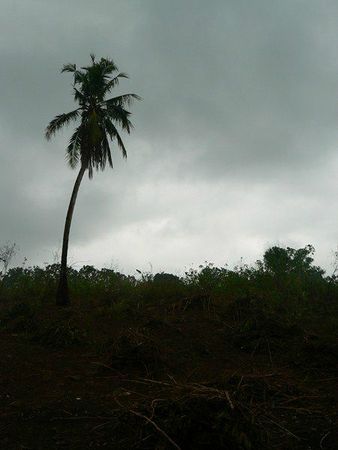 We set off in the pouring rain, armed with umbrellas and anoraks, and of course, as always, the rain stopped a quarter of an hour in, leaving us to carry our wet-weather clutter for the next three hours.
We saw big crabs, red and black ones which live among the roots. A lot of roots and water, little roots just poking out of the ground and whole tree roots, uncovered by the low tide but normally bathed in muddy (and slightly smelly) water.
We saw banana and coconut trees, and people chopping the banana plants down. Banana plants - they're not really trees - only fruit once, and have to be chopped down afterwards. They almost always have a little reject plant next to them, which is generally very small, and that grows once the large plant has gone.
We had a Mahorais guide with us, who explained all about banana trees - this is not wonderfully innate knowledge here - and anything else we asked him. He also made pilao (rice dish, like paella but with meat instead of fish) for us for our picnic on the beach afterwards - in the rain, which of course had started up again by then.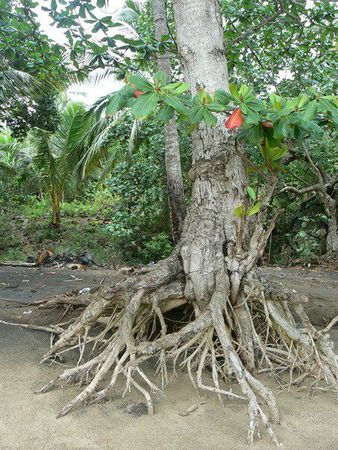 Quite fun to do once, but I don't think I'd do it again. It's actually exhausting, going over so many roots and navigating puddles and such, all to realize that once you're done, you've covered about a kilometre per hour.
You do get extremely mucky, though. Most of us were wearing shorts or short trousers, and our legs became slowly blacker with red stripes where we had been cut by branches. Shoes and trousers became brown and clogged with mud. At the end of the walk, we all sat down and took our mucky shoes off: the sudden display of white feet emerging from dark brown legs was very amusing.