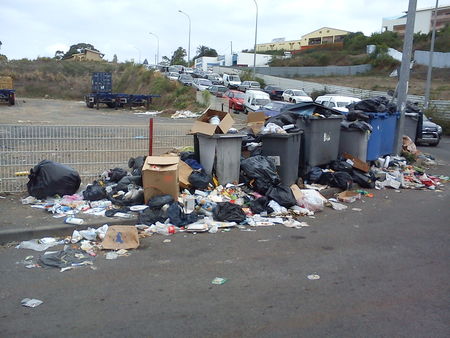 Things have been a little complicated recently.
First, the strikes started because of the cost of living here. For example : 4.20€ for a 1kg packet of rice, 2.83€ for three large potatoes and 3.50€ for a packet of butter. "Essential" products here are chicken wings, rice, sand, bottled gas, meat and milk. These were the strikes with blocked roads, burning tyres and hundreds of children in the street. The unions and various high-up representatives started talking about how to bring specific prices down, and agreed on lowering the price of chicken wings, sardines and rice... for one month.
However, the population decided that this was nowhere near enough, and went on strike again. Except that this time, they didn't spend as much energy blocking the roads. They closed the shops instead, as well as services such as dustbin collection and street-cleaning (which are not brilliant at the best of times). This started a couple of days after the beginning of the school holidays, roughly the time I went back to France for two weeks. I came back yesterday and found closed shops, empty fridges and hungry people everywhere. Several of my pupils told me this morning that they hadn't had anything to eat for just under a week... the time it took for their families' supplies to run out. Families here often have between five and twelve children, so food goes down fast.
They also blocked the ferry, allowing it to take passengers from one island to the other but stopping cars going accross. My car is still at the airport. I took it accross just in time when I left for the holidays, but am now waiting until I'm able to take it back. I took two rather expensive taxis to get back home yesterday, 7€ instead of the usual 1.20€ because the drivers knew perfectly well that lots of white people - m'zungus - were stuck and needed to go somewhere but couldn't drive themselves.
The overseas minister came over last week to talk to the locals and try to find a solution. She spoke to different people - some officials, others average people - and explained that she liked Mayotte and was disappointed to see the country in such a state, that they had just become an official French department and should be happy with that, and finally, that she would set up a "cash-back" system which would allow 5€/month off 10 essential products for people whose salaries didn't exceed 600€. She also said that she had asked for a survey of Mayotte prices compared to prices in nearby La Réunion, which is the most comparable as many products are imported there too. If you feel like reading the speech in French, it's here : http://www.malango-actualite.fr/article/mayotte_allocution_mme_marie_luce_penchard-7899.htm
However, the people here didn't think much of her speech, mostly because it came at a bad time. They wanted real problem-solving, not speeches, and they didn't like the idea of living on white people's charity. They'd much prefer to live in a dignified fashion and not have to depend on charity from others.
Some shops reopened this morning. The negotiations haven't finished, but hunger had become a real problem, babies and young children had become seriously ill from lack of food. Which was seen as contradictory to the dignified life they were asking for.
I went to the local supermarket this afternoon, and it was a real gold rush. People everywhere, and empty shelves because there had been people buying all they could since this morning. Nobody knows how long the shops will stay open, nor if there will be another strike, so we're all stocking up, just in case. I went past the smaller local supermarket on the way, called Sodifram, and there were people queuing outside the supermarket. The shop itself was so full that they weren't letting any more people in until some had come out.
I couldn't carry as much as I would have liked to because I didn't have the car, but I'll go back tomorrow and stock up on rice, pasta, apples and tins just in case. Assuming there's anything left.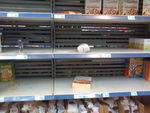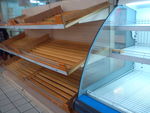 Empty shelves in the local Jumbo Score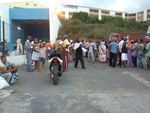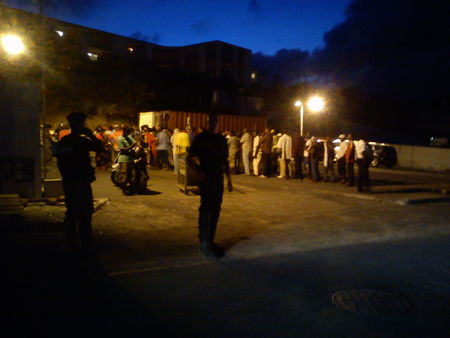 Queues outside the local Sodifram, supervised by policemen. The red container was selling nothing but 25kg bags of rice to separate rice customers from the other customers, because rice was what most of the people were queuing for.